The covering has the disconcerting effect of obnubilating as well as illuminating the woman behind it.
Shrouded in black niqab and ankle-length abaya, she floats towards me. Behind, her friends are firing salvos of cell-phone photos, as though we foreigners are exotic beasts in a zoo. She stops, and through her veil, in perfect English, asks, "Where are you from?"
"California."
"What city?"
"Los Angeles."
"What part?"
"Venice Beach. Your English is very good. Where did you learn it?
"From American movies. I watch them on my computer at home."
"What's your favorite American movie?
"The Devil Wears Prada."
This is a scene on my first day in Saudi Arabia, and somehow seems evocative of a kingdom at a crossroads, theological tradition crashing against the rocks of modernity, a 7th century purity crossing swords with 21st-century internet use, and it is utterly fascinating to be here at this moment. This seclusive culture may be as different from Western versions as can be found on the planet. Women can pilot a plane, but still can't drive themselves to the airport. Or play team sports. Or swim at a community pool. There are no beauty contests (unless you count the Miss Camel Competition, which judges the full lips and long eye-lashes). No alcohol. No public dancing. No churches, synagogues or temples. No philosophy (all you need is Allah's word). No Teslas. And no tourist visas. This is the hardest place for non-Muslim travelers to visit in the world. I spent 16 years, and 1000 cups of tea, trying to set foot here. It is worth the wait.
Approaching Riyadh from the air at midnight the desert out the window looks like an ocean of ink. And the capital, largest city in the Kingdom, zaps the darkness like an island Oz.
After a short night we begin our tour with a visit to the state-of-the-art National Museum, which explores the epochs of the peninsula from the dinosaurs through the pre-Islamic period of waywardness, to Mohammed's revelation and the Muslim conquests, to King Abdul Aziz's stitching together of the tribes to create the current Kingdom, to development since the discovery of black gold, the high-grade crude that paid for these galleries.
Our erudite guide, Ali, as colorful as any exhibit, challenges the Saudi code of humility and reticence. In his flowing white thobe he has a dash of Omar Sharif about him, and confesses his goal is to marry a rich, old American.
Then we head over to Diriyah, a sunbaked complex of mud-brick houses, ramparts, grassy parks, and cafes, that has the feel of a Phoenix mall.
It is Friday, the day of rest in Arabia, and the lawns are filled with family picnickers sprawled beneath the shade of date palms. This respite alongside the shaded Wadi Hanifah is the birthplace of Wahhabism, the rigid doctrine that radiated outwards and rocked the Arabian Peninsula, laying the foundations for the House of Saud. But here, now, everyone carries a cell phone, and most are using Snapchat (with images and messages conveniently vanishing) and WhatsApp and Twitter, and kids with ice-cream cones are riding hover-boards through the snaking alleys. Sixty per cent of Saudis are under twenty, and most are as connected as a Silicon Valley teen. At the Jarir Bookstore, next to the Holy Koran, and between picture books of Arabia, is "How to Get Your Own Way: Who's Manipulating You?"
In the golden light of late afternoon, we take pictures of the old mud settlement, Turaif, a UNESCO World Heritage site across the dry riverbed. Then we duck into a restaurant just before prayer call, when, in accordance with the law, doors are locked for half an hour. We take off our shoes, and sit cross-legged for a late lunch of Najdi-style cuisine, including the national dish, lamb kosha, served on a bed of
long-grain basmati rice, which I wash down with a non-alcoholic Moussy Beer. As a waiter pours coffee from a beaked spout three feet above the small handleless cups, a group of young women in abayas drifts in to take our pictures. Two scramble over to my side, and whisper through gauzy black silk, "I love you," as their friends giggle and snap and post away.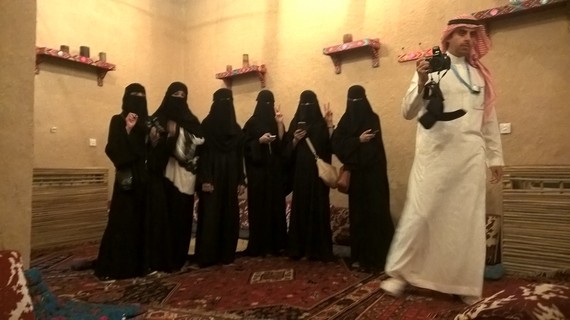 We take the night at the Radisson Blu, where "Stormin' Norman" Schwarzkopf based during The First Gulf War, overseeing Operation Desert Storm. It looks like any major chain hotel in the world, except there is no bar in the lobby, no disco on the top floor, and there is a prayer rug in a drawer in my room. There is also an arrow pointing towards Mecca.
In the fresh heat of morning we head to the center of the city, to Fort Masmak, looking like a movie set façade. Surrounded by sand, this squat fortification was built around 1865 and was the site of Ibn Saud's fabled 1902 raid, during which a spear was hurled at the main entrance door with such force that the head still lodges in the doorway.
Outside the fort we pass a large public space ringed with palms, formally called Deera Square, but which Ali calls Justice Square, and which ex-pats chillingly call Chop Chop Square, for reasons easily imagined.
Then it's some shopping in the Souq Al Thumairi, which smells of oud, the dark resinous heartwood that perfumes the stalls between the carpets, copper pots, sandals, silver daggers and bling-bling.
I bargain for prayer beads; some of the women in our group haggle for Red Carpet-worthy abayas; and Brid, our tour leader who lived in the Kingdom for many years and knows quality, buys a box of gourmet Bateel dates. We all feel richer for spending our riyals.
Later we head to the airport (the only I have seen where men and women enjoy separate security lines), and board a Flynas flight to Ar Rub' Al Khali, the great sand sea of The Empty Quarter. As the Airbus A330 takes off, a James Earl Jones-timbered voice recites a prayer for safe travel through the on-board screens.
When we land, the American women in our group change from the shapeless abayas into form-fitting safari wear. We're met by a fleet of Toyota Land Cruisers, and take off, south of nothing, west of nowhere. The lead driver is named Metab, which means "The Exhauster," a hold-over when tough names were adopted to scare off invaders. His long white thobe is immaculate, his black agal headband perfectly in place, but, he seems to live up to his name, veering off the road at high speed, lashing in the dark towards the void. How does he know where he is going? He has no GPS; no maps; there is no cell service; there are no tire tracks. He steers his wheel like a captain in a storm. Then, at last, a spot of light burns a hole in the darkness, and we come upon our camp, a simple goat-hair Bedouin tent in the crook of a dune with a campfire out front. Scattered around are individual zip-up Mabeet tents (Mabeet is the 12th night of the Hajj) for each member of our party, to keep out the snakes, scorpions, camel spiders and sand from the persistent wind.
Please comment below and enjoy these related articles