We Said Go Travel has a new look! Thanks for all the compliments on the new design.
My first trip to Ireland last month was incredible. I loved being in the St. Patrick's Day parade in Dublin. See Chris McGinnis and I on the bus in the parade below. 
New videos from The Redbury, The Bowery, Fig&Olive and mom's birthday at Spaghettinis are on my YouTube channel now. I was in Santa Barbara last week and those videos will be live next week. See over 340 videos on my channel: WSGT YouTube​
The Power of Choice
At this time between Passover and Shavuot, I am counting the Omer with readings by Rabbi Karyn Kedar. Thank you to Rabbi Faith Dantowitz for the introduction.
From Day 15 of Counting the Omer:
Choose the one next step towards self-actualization, towards shift in perspective, towards living in the light and emerging from darkness.
To choose! To acknowledge! To affirm! Choice is empowerment when we choose to live differently, to be better. With every choice we defy inertia, with every choice we expand our sense of possibility. With every choice we become emboldened. But it isn't easy, nor is it linear. We go back and forth between choice and discernment, reaffirming our decisions, reexamining everything. The spiritual path is a zigzag, a switchback up a mountain. It is exhausting, riddled with doubt and setbacks. There are so many ways to get us to where we need to go.
Rabbi Karyn D. Kedar, from Omer: A Counting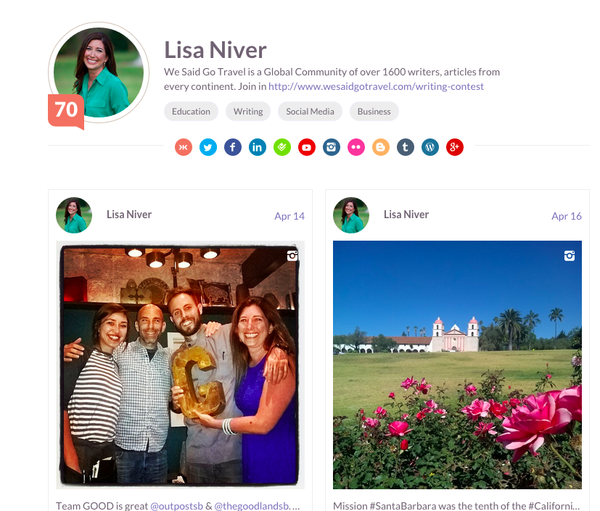 Independence Writing Contest opens in May!
Winners from the Inspiration Contest will be announced in June and the Independence Contest will open next month  in May 2015. Thank you to everyone who has participated in all my contests! This next one with be #8!

YouTube is at 315K views!Thank you for watching my WSGT YouTube channel which is now over 315,000 views! Enjoy movies from Los Angeles, Bermuda,  Puerto Rico, Palau, Guam, Hawaii, India as well as Bali and Lombok  Indonesia,  Southern Thailand, Myanmar (Burma), and Nepal.  To find all 347 Videos:click here for the WSGT YouTube Channel. I am over 1000 followers on Pinterest, and up to 646+ subscribers on YouTube!
Thanks for reading and participating!
Happy April! Lisa