While sitting in our guesthouse in Fortuna, Costa Rica last Fall, I was imagining our upcoming trip to Volcan Arenal when I found a housesitting assignment in Langkawi, Malaysia in the Caretakers Gazette. After nearly a year and a half on the road, staying in one place for three weeks sounded like heaven.  I wrote to Valerie and Donal, the homeowners, indicating my interest and all about past travels to Asia including a brief visit five years ago to Langkawi.
Valerie wrote back the next day and mentioned that of all the applicants, we were their top choice and it was quite important to her that we had been to Langkawi in the past. They requested more information as well as a photo. We shared several emails and everyone was content with the arrangement.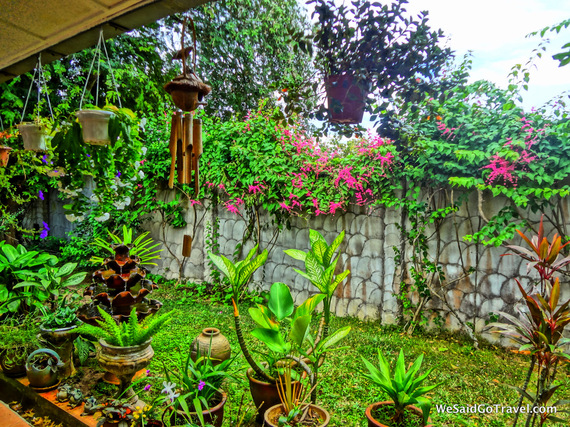 We first learned about Caretaker's Gazette from Jen Leo. We appeared on her show, This Week in Travel in July 2012. While being interviewed by Jen during her show she recommended the Caretaker's Gazette to us and we quickly decided to join and paid the reasonable annual fee. For many months we perused the ads but nothing stood out as suitable for us until we noticed the Langkawi assignment.
George and I first met seven years ago on an online dating site; housesitting reminded us of the dating process. Whether in search of a mate or a housesitting date, we highly recommend that you remain patient and wait for a good match. Don't offer to housesit if you always dreamed of living in a specific location but the level of responsibility is not appropriate for what you want. If you have not cared for multiple pets or are unsure about being exceedingly remote, be honest with yourself and select assignments that fit in your comfort zone and are in line with your level of experience.
WATCH: Marvelous Malaysia

We recommend waiting for one or two posted jobs that pop out at you. Once you know you are interested in a particular assignment, use a standard prewritten letter listing your qualifications. When corresponding with homeowners, be sure to be professional, prompt and sincere. Be careful about what you place in your emails and your online profile; a recent book release entitled, "What Happens in Vegas, Stays Online!" is a reminder that digital memory is permanent.
What would our first housesitting assignment be like? We received a photo of the owners but knew very little about the house and cats. I was confident that it would all work out but looking back I realize that tips from two leading housesitting books would have helped clarify our job. Both books recommend attaining photos or a Skype tour of the property. The books also suggested ironing out all details in advance as part of an agreement letter or contract. Fortunately, Valerie and Donal were wonderful and treated us like special guests, even picking us up at the ferry and feeding us dinner before they departed.
When their car broke down on our tour of the area, we were all concerned. Together we problem solved and organized a taxi and a tow truck. Valerie left us money for the car repairs and the phone number of her favorite taxi driver. For the first ten days, we sat in the large garden and worked on our website, WeSaidGoTravel, and uploaded movies to our YouTube channel. The cats were fairly independent but watering the sizeable garden was more work than we had originally imagined. We also raked the property, moving wheelbarrows full of leaves to the nearby dumpsite.
We were surprised on December 31 when our idyllic retreat turned into a construction zone. The glass patio table was covered in dust. The air was full of diesel fumes and the noise of chirping birds in the quiet village was replaced with roaring lorries and trackers. Since we took the assignment as a respite from constant travel and as a way to focus on reaching our website related goals, this was a calamity. It became difficult to enjoy the property and complete our work objectives. After two days we figured out how to manage the situation but it was still not ideal. Remember that while traveling you must be flexible.
We agree with the authors of the book, Breakfree: The Ultimate Guide to Housesitting, that "Housesitting allows you to travel the world on your terms, and while this is a growing movement, not enough people are taking advantage of it to see the world – yet!" When my husband George counted the money in his wallet, we were shocked at how little we spent during our three weeks of housesitting. Normally we spend under $50 a day for the two of us, but while housesitting we spent so little that it felt like we made money.
Breakfree is a tremendous resource for both house sitters and homeowners. Complete sections of the book have specific tips and stories to help teach how housesitting can be done well and what we should do if something goes wrong. Whether you are a newbie or seasoned house sitter, you will gain insight on how to properly write profiles, make checklists, and put together housesitting agreements. The authors will even makeover your profile to help you get started! Throughout their book, they share many ups and downs of housesitting with detailed stories. As I read the book while we were housesitting, I could see how useful it would have been to read it before we made the agreement or arrived.
Dalene and Pete Heck's "How to Become a House Sitter" is beautifully laid out; I enjoyed the landscape format and the design almost as much as the content. Traveling since 2009, they share how to make life on the road work out with housesitting as a main component. Their book is "an introduction to the wonderful world of house-sitting – for the aspiring house-sitter." The chapter on things to consider will help you clarify all pertinent information prior to taking your next assignment. They share about profiles, interviews, contracts, communication and their personal experience. I plan to use their three-page checklist for any future housesitting assignments.
While in Langkawi, we enjoyed the beaches all around the island since the homeowners lent us their car. We also shared a New Year's Eve picnic with friends of the homeowners and made significant progress toward attaining our personal and professional goals while we relaxed in the three-bedroom garden home.