Richard Bangs is a judge in our We Said Go Travel Writing Contest. The contest is extended for two weeks to December 10, 2015. Please share your story of gratitude!
When word got out I was thinking of taking a group to Burma this November, I received this email:
Dear Mr. Bangs: I strongly advise you to drop travel to Burma. The treatment of the Rohingy minority is so appalling that I feel that no one should be visiting that country…

This is not the first cease and desist-style communication I've received about travel to a destination whose politics are at odds with our own. When I received a permit to take a first group of Americans to The People's Republic of China in the mid-70s, I received calls and letters from angry folks who were aghast that we would consort with the Communists. This was a few years after Nixon's historic visit, and the advent of ping-pong diplomacy, but to some, the idea that we would visit an enemy state as travelers was abhorrent.
I received similar notices during apartheid in South Africa; when we took a group to Cuba in 1979; again when I first visited Iran; and once more when I took a first group of Americans to Gaddafi's Libya.
Probably the biggest barrage of hate mail came when I received a permit to bring a group of Americans to North Korea. Even friends implored me not to go, arguing that the monies paid to the DPRK government would go to further oppression, and maybe even enhance nuclear armaments. Our tourism dollars might contribute to WWIII.
And now, Burma.
In John le Carré's 1990 book, The Secret Pilgrim, George Smiley reflects on the end of the Cold War:
"I never saw policies as much other than excuses for not feeling. It was man who ended the Cold War in case you didn't notice. It wasn't weaponry, or technology, or armies or campaigns. It was just man. Not even Western man either, as it happened, but our sworn enemy in the East, who went into the street, faced the bullets and the batons and said: we've had enough. And the ideologies trailed after these impossible events like condemned prisoners, as ideologies do when they've had their day."
I don't agree with governmental ideologies and policies of many of the places I've visited…heck, I don't agree with many US policies, or even policies in my neighborhood. But, I don't believe a travel boycott is ever the answer. In fact, I deeply believe travel contributes, often granularly, but ultimately measurably, to the solution, or at least the evolution of consciousness. It is the human correction, and the arming of the oppressed with a larger truth, that empowers people to act.
Without travel and person-to-person encounters, mental walls are erected, and it becomes easier and easier to demonize the other side. They're evil, monsters, not like us, ready to destroy us at first opportunity. But, it is more often than not governments, and their ideologies, policies and leaders, that paint us as different and worthy of ruin. It is the corrupt regimes, not the commuters or mothers and their children, which violate human rights with alacrity and little consequence. In North Korea, for three generations the common folk have been fed a non-stop diet of animus towards Japan, South Korea and America. And, most North Koreans believed what they were served, until recently when evidence that proved otherwise began to leak across the borders through cell phones, thumb-drives, DVDs, and visitors from the West.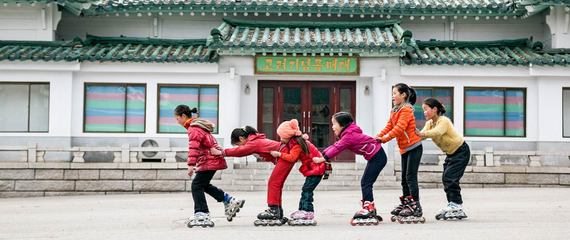 When and if North Korea enjoys regime change, it will likely not be because of saber-rattling or brinkmanship, or boycotts or sanctions. It will likely be because the human spirit that thrives everywhere will find the voice, courage, passion and righteousness to force that change. And, while visits from foreigners will not be the tripwire that sets this off, they will be a contributor. Every human touchpoint is a chip in the wall. Every time I exchanged a smile, a handshake, a gift with a North Korean, I made a connection, a human link, making one another not just an abstract representation, but somebody closer to relative than enemy. And, in most cases, we don't want to see harm come to our family or friends, or even people we've met, no matter how briefly.
READ THE FULL ARTICLE on Huffington Post
Please comment below and enjoy these related articles