I wish we were all together this week in person for PENN HOMECOMING!
I loved going to the University of Pennsylvania. I loved living in the Quad and I loved learning about Benjamin Franklin! So when The Power of PENN campaign sent out a Penn Ben ala Flat Stanley to take around and photograph I was ready for the task! Here are my pre-COVID19 photos of wandering around the world with Penn Ben.
The first place I brought Penn Ben was the United Nations Conference in September 2019 in New York City. I was invited as media through Ms. Magazine and wrote about the Sustainable Developmental Goals SDG 2030 as well as the United Nations Women's Event.
Penn Ben and I went to the opening event at the UN GA 74 SDG 2030. This is us in the media room above the conference room.
Penn Ben and I were also invited to the Gates Foundation Goalkeepers Conference at Lincoln Center.
Also in September 2019, Toni DeMayo CGS'01 CGS'05 and I watched the Los Angeles Rams play the Tampa Bay Buccaneers at the Los Angeles Memorial Coliseum. We brought along Penn Ben who enjoyed the suites as much as we did! Our photo was in the Penn Gazette: "Pictures of Penn" Vol 8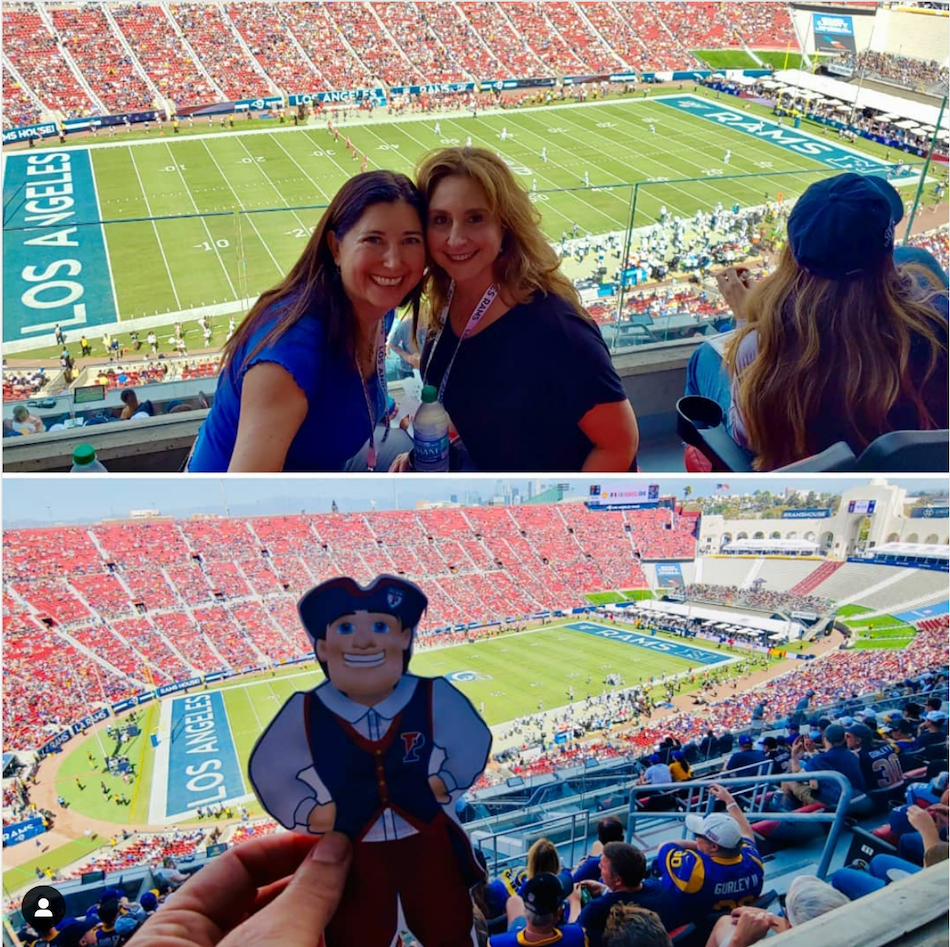 When I visited Penn for Homecoming October 2019, I was honored to meet with Professor Peter Decherney's Media Studies and English Department students. Of course, Penn Ben came to lunch with us!
It has been my honor to write for Wharton Magazine. I went to their gorgeous offices to talk to my editor, Richard Rys, with Penn Ben!
My friend from Hebrew Class at Penn is now Rabbi Faith Dantowitz (CAS 1987). She and I went to the Jewish Museum in New York City with Penn Ben on October 19, 2019 for my birthday and learned about Edith Halpert and the Rise of American Art. I wrote about Georgia O'Keefe for my Women's Studies thesis at Penn and Halpert had helped her career.
My sister, Susan (Penn CAS 1991) and I share a birthday and we celebrated her 50th in NYC with Kevin Kassover (Penn CAS 1991) and my parents! My dad is also a PENN grad (Penn Dental!) Penn Ben was there is spirit!
When I went to visit the Galapagos Islands in December 2019, I did not expect that I would meet new friends from Penn! I loved my adventure and my new friends, Howie and Mary Panitch. Dr. Howie graduated from Penn in 1978 and now is a pediatric pulmonologist at CHOP!
My very first friend at Penn who I met at Ware College House in the Quad in September 1985 is still one of my very best friends. Carl Law (1987) and my friend from senior year, Heather Fudala (1990), and I went snowmobile back country skiing in Park City in March 2020 just before quarantine. Our adventure with Inspired Summit Adventures was my first time riding a snowmobile, my first time driving a snowmobile, my first time on alpine touring skis climbing and hiking uphill in skis and we had a superb time skiing in fresh powder together.
You can listen to my story on the Power of Penn Women podcast. Thank you to the committee for including me! Read this post which has the transcription of the entire podcast interview!
I wanted to share a few other Penn moments with you from my 30 year reunion which was in May 2019 just before the Penn Ben campaign began. See my class in these Facebook photos, the YouTube video below and the photos from when I took over the Penn alumni Instagram account.
As seen in the PENN GAZETTE: "Pictures of Penn" blog Vol 6: Cara Schneider and I worked on a Travel TV Segment about Philadelphia for KTLA in Los Angeles. We saw each other in Jan 2019 in NYC where this photo is from and May 2019 for our 30th reunion!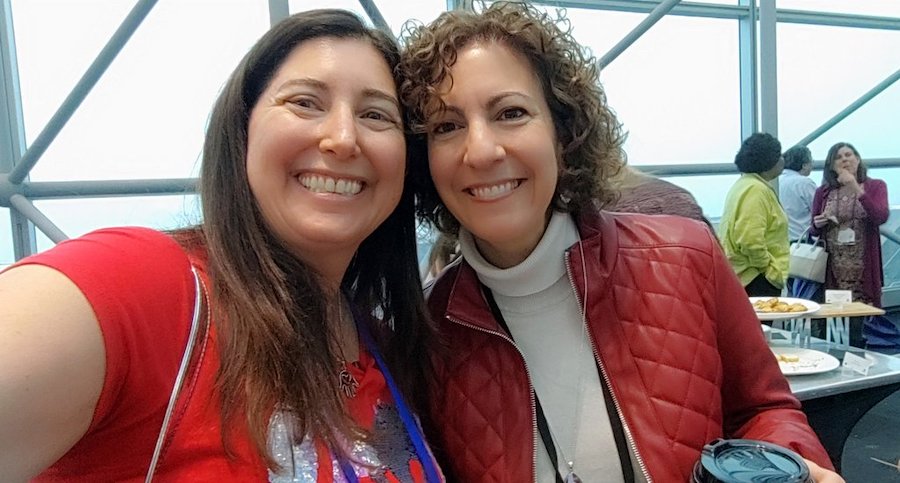 Lisa Niver C'89 (pictured left), founder of We Said Go Travel, has been to 101 countries and six continents. Recently, she was invited to share travel segments on KTLA TV in Los Angeles, and she was part of the station's Critic's Choice Awards and Oscars coverage. Lisa writes, "For President's Day Weekend, I was on the KTLA morning news, talking about Philadelphia! I worked on the segment with Cara Schneider C'89 from Visit Philadelphia. There were over 5.8 million Twitter impressions for the segment, and in the first 30 minutes more than 5,500 people texted to win our Philadelphia Travel Giveaway." In 2018, Lisa's blog was read in 212 countries. In February 2019, #Travel1K named We Said Go Travel the No. 3 blog on its top 1,000 travel blogs list, and Lisa was named the top female travel blogger. View the segment at bit.ly/2Up4elJ.
Travel Expert Lisa Niver Talks About a Philadelphia Getaway Travel Expert Lisa Niver visits the KTLA 5 set at 11a with anchors Lu Parker and Glen Walker to talk about a Philadelphia trip giveaway. ktla.com
As seen in the PENN GAZETTE: "Pictures of Penn" blog Vol 5, I came to Philadelphia in October 2018 when my college roommate was honored by LBBC. I was there again in Nov 2019 and wrote about it for Ms. Magazine.
Barbara J. Yorke C'89 was honored at Living Beyond Breast Cancer's annual Butterfly Ball in October with the first Andrea and Abraham Morris Impact Award. Barbara has been involved with the charity for more than seven years as a board member and then chair of the board, using her skills in strategic planning and relationships within the scientific community to better serve women and families impacted by breast cancer. (Pictured from left: Lisa Niver C'89 and Barbara Yorke C'89.)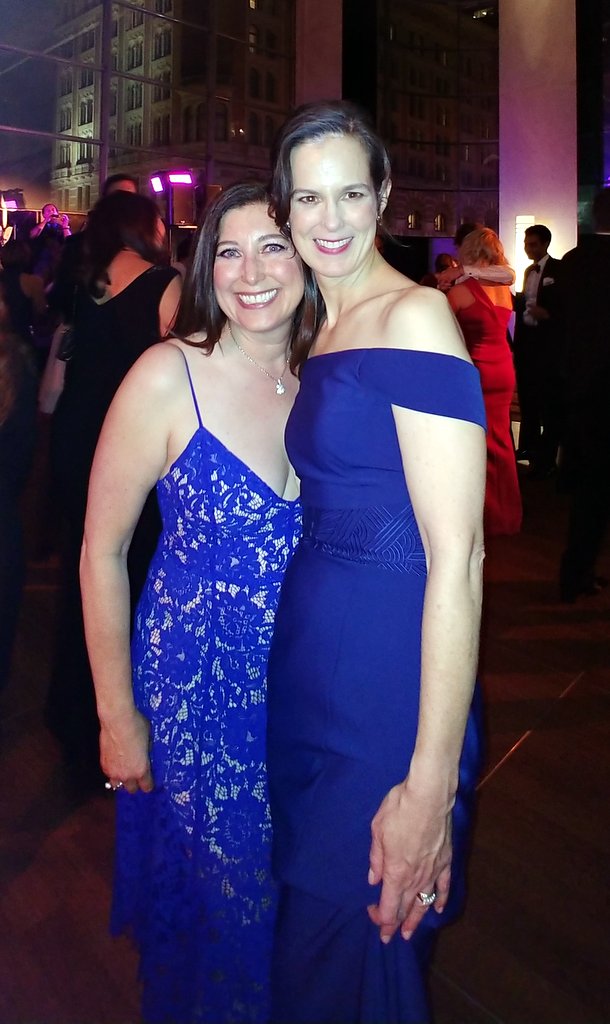 Pictures of Penn, Vol 9 from the Penn Gazette: Lisa Niver C'89, a travel journalist and founder of We Said Go Travel, won third place in the National Arts and Entertainment Journalism (NAEJ) Awards for her television segment on KTLA 5 News!
Penn Gazette Pictures of Penn, Vol. 10: Lisa Niver C'89 writes, "I want to thank everyone who has supported me on my crazy ride of a career journey! After Penn, I went to and then left UCSF medical school, got an MA in education and taught from pre-K to 8th grade, sailed the seven seas for seven years, and then chose to be a journalist. I am honored to be a five-time finalist for the Southern California Journalism Awards in print, digital, and broadcast TV categories, but most especially for being nominated as Online Journalist of the Year! I am grateful for all I learned in my liberal arts education that allowed me to know how to figure it out in each of my new endeavors. (You can read more on my website at https://bit.ly/3eF8kQ8.) In March, just before COVID closed the doors on all of my travels, I went alpine ski touring with Heather Fudala C'91 and Carl Law C'87. It was possibly one of the hardest things I have ever done, but we loved it and doing it together made it possible! Thank you to Penn for bringing me my lifelong best friends. (Watch a video clip on my website at https://bit.ly/2ZM60m9.)"
Thanks to The Penn Gazette for sharing this post on their social!