As originally featured on the website Hilton Mom Voyage By Lisa Grabelle
Move over Paris and Venice — Stockholm, Sweden redefines European romance!
While we love traveling with our kids, my husband and I relish an occasional couples-only getaway! After spending a few glorious days "kids-free" in wonderful Copenhagen, for Part Two of our romantic escape we took a train to the magical oasis of Stockholm, Sweden.
Stockholm is a romantic dream! Gorgeously located between Lake Malaren and the majestic Baltic Sea, Stockholm is built on 14 picturesque islands, each with its own special character.
Below is a three-day itinerary with our favorite romantic things to do in Stockholm. It includes our top choices for the best couple activities, plus, because as a mom I just couldn't help myself, the kid-friendly attractions are identified with a "*" as well.
DAY 1: VÄLKOMMEN TO STOCKHOLM (WELCOME)
Grab your honey's hand and get started! Spend your first day wandering through the streets of Gamla Stan, the quaint medieval Old Town and heart of Stockholm. Soak in the beautiful architecture and tour historic sites such as the elaborate Kungliga Slottet* (Royal Palace) and the grand Stadhuset* (City Hall), which is home to both the dinner-dance in honor of Nobel Prize winners and the opulent Golden Hall with millions of gold mosaic pieces.
For a delightfully casual lunch, hop the efficient metro to the grand Ostermalmshallen* (Ostermalm's Saluhall Market) with first-class gourmet stalls and restaurants. Then sail away with either the Stromma Historic or Royal Canal Tour*, each offers a beautiful introduction to the islands of Stockholm.
Since we are talking "love"…of course hubby and I love good food! And Stockholm certainly offers plenty of choices to feed our souls and our bellies. For foodies like us, a must-do is experiencing a traditional Swedish smorgasbord with an array of local delicacies such as herring (a million ways!), skansen (a tasty shrimp and mayonnaise mixture), smoked salmon, and world-famous Swedish meatballs with lingonberries. For a true romantic smorgasbord experience, we booked a banquette for two with a view at the elegant Veranda restaurant and luckily, we arrived hungry!
Or, if you're on the go sample superb food while walking around the hip and trendy Sodermalm district (the setting for Girl with a Dragon Tattoo) on the top-notch Food Tours Stockholm. We loved this tour which provides a perfect introduction to the delectable culinary options that this cosmopolitan city offers. Our enthusiastic and knowledgeable guide led us in our quest to sample a variety of international treats including authentic Italian delicacies, flavorful Chinese dishes, perfectly cooked rotisserie meats, mouth watering gourmet appetizers, truly decadent chocolate and milkshakes, and finally — somehow we found room! — a full fika buffet of Swedish desserts.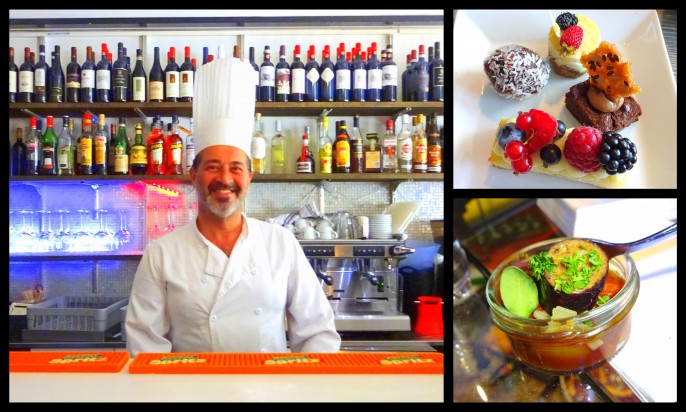 But all our eating didn't end our night of romance. We discovered the ideal way to end our first night in Stockholm: cuddling with each other at the super chic ICEBAR, home to the first permanent ice bar in the world! The bar is made completely of artistically carved Swedish ice and is absolutely stunning. We donned our faux fur-insulated parkas and toasted each other by drinking out of glasses made of – what else? – ice.
Tip: Make reservations at this popular night spot!
DAY 2: ART, ABBA AND ALE!
We started our morning wandering through the quaint, picturesque island of Skeppsholem where we toured the impressive Moderna Musset* (Museum of Modern Art). The museum's café is a great place to eat lunch.
Next, we hopped the short ferry to Djurgarden and explored Stockholm's "garden playground." One of my husband's highlights was the fascinating Vasamuseet* (Vasa Museum), home of the salvaged 17th century regal war ship that sunk on its maiden voyage in 1628.
Then we had LOTS of fun in the kitschy yet wonderfully executed new high-tech ABBA Museum*! The audio guide, narrated by the band members, brings this colorful museum to life. We had a blast singing Dancing Queen karaoke style and grooving to ABBA's greatest hits and even more laughs reliving it all at home with our kids when we downloaded the museum's video and audio recordings of our visit! The museum lives up to its tagline, "Walk in. Dance out."
Tip: Admission to the museum also includes the entertaining Swedish Music Hall of Fame.
To end our night in Djurgarden, we dined at the famous Ulla Windbladgh* which has served gourmet traditional Swedish cuisine since 1897. Dine either inside the charmingly cozy restaurant or outdoors in the lush garden. With impeccable service, beautiful presentation, expertly prepared flavorful Swedish dishes and a well-curated wine menu, our romantic dinner was a culinary highlight!
We ended our night among tourists and locals on the fabulous Stockholm Historic Pub Tour. We immensely enjoyed our two hours pub-hopping while our animated guide gave us an entertaining and educational history of alcohol in Stockholm. Along the way, we sampled traditional mead, microbrew beers and Schnapps. The tour includes a leisurely (if a bit wobbly) stroll through romantic Gamla Stan.
DAY 3: CRUISING THE ARCHIPELAGO
We decided to dedicate a day to exploring Stockholm's spectacular archipelago of about 30,000 islands…or at least a few of them!
We boarded a ferry to the closest archipelago island, Fjaderholm* which is well-known to locals for summer escapes. After just 25 minutes on a scenic boat ride, we docked at a storybook island dotted with a handful of waterside restaurants, cafés, ice cream shops and handicraft galleries. This place was a perfect blend of charm, beauty and serenity!
For the perfect finale to our romantic vacation we took the Stromma Sunset Dinner Cruise. Aboard a refurbished 1930's steamboat, we dined on delicious Swedish specialties as we dreamily watched the scenery of the magnificent archipelago. After dinner, we cuddled on the deck while enjoying the crisp, fresh air.
WHERE TO STAY IN STOCKHOLM
We absolutely loved the beautiful Hilton Slussen Stockholm with its sweeping waterfront views and convenient location within walking distance of Old Town and just a few minutes' walk to the metro and ferry station. This Hilton is an ideal home base in Stockholm for couples and families alike.
So grab your sweetheart and set sail for romance in sensational Stockholm!
You may also enjoy:
7 Fun Adventures in Stockholm with Kids
Fun Things to Do in Scandinavia With Kids
Best Family Hotel in Stockholm – Hilton Stockholm Slussen
Couples Vacations: 5 Things to Do When You Travel Without the Kids
Hilton Mom Voyage writers receive free night certificates to use at Hilton Hotels & Resorts worldwide. A few of the tours and meals Lisa received were complimentary or discounted so she could share her experiences with you, however all opinions are her own.
Please comment below and enjoy these related articles