Have you dreamed of long-term international travels across Asia? Considered quitting your job to become a travel blogger and book writer? Want to connect with travel-minded community members?
Festival of the Pacific is a celebration of travel and transformation hosted by We Said Go Travel. The theme, "Living Without Regret: Travel, Love and Success: Make your Dreams a Reality", presented by the founders of We Said Go Travel, Penn graduate Lisa Niver Rajna (C'89) and her husband George Rajna, will give an inside look into long-term exotic international travel across Asia. They will share their travel expertise, read an excerpt from their new memoir, "Traveling in Sin," and provide information about We Said Go Travel's writing contest, and upcoming community.
Join us for an evening of Travel Talk Story with Lisa and George, network with the travel community, and enjoy hosted pupus and drinks. There will be goodie bags for all attendees and raffle prizes.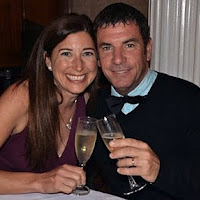 Mahalo to our Sponsors:
Lotus Honolulu for providing the venue space. Book your stay at Aqua Lotus Honolulu for a peaceful retreat steps away from the beach, Kapiolani Park, and Diamond Head.  The hotel decor is Bali-fusion inspired with Hawaiian warm hospitality. Aqua Lotus Honolulu amenities include in-room high speed Internet & WiFi, safe, complimentary coffee and tea service in the lobby, daily local newspaper, valet and concierge services, banquet/meeting facilities and complimentary use of beach items such as sand chairs, umbrellas and mats for the beach just steps away. Lotus Honolulu's Facebook Page  / @LotusHonolulu
Park Restaurant for hosting pupus. Park Restaurant uses fresh local ingredients.  The food will take you on a culinary journey of infused flavors borrowed from French and Italian, to Greek and Egyptian influences. Chef Collantes' menu promises a dining experience that is as much adventurous as it is comforting. Park Restauurant Waikiki's Facebook Page  / @ParkHawaii
Zaratez Mexicatessen for donating to the raffle prizes.  Dine at the restaurant for home style taqueria including tacos, burritos and quesadillas. Zaratez Mexicatessen's Facebook Page / @zaratez
Uber Honolulu for providing sleek black car service for attendees to this event. Sign up for Uber by downloading the app (on iPhone and Android) and request your black car service on the event day. Uber's Facebook Page / @Uber
Gogobot Oahu for collaborating with We Said Go Travel. Download the Gogobot travel app (on iPhone and Android) and join the millions of travel community members in reviewing and sharing travel experiences and postcards. Gogobot Oahu's Facebook Page / @GogobotOahu