November News from Lisa Niver & WSGT
I am GRATEFUL for all my amazing travels this year and look forward to my next adventure in December with Viking River Cruises. Some recent adventures include: Dallas, Hollywood Florida, Yellowstone, Hamburg Germany and Israel. Find photos on all my social media: Instagram, Facebook, Twitter,YouTube. My favorite video so far is me flying! Dan called me TRAVEL GIRL!
Please share about your grateful adventures in my final Gratitude Travel Writing Contest by Thanksgiving! The finalists from the Summer 2015 Independence writing contest have been announced and the winners will be announced in December.
Recent Articles by Lisa Niver: 
SheKnows Expert: "I'm Not a Picky Diner, I have serious food allergies!"
Pink Pangea: Traveling to Israel
USA Today: St. Kitts: From Sugar Cane History to Six-Star Luxury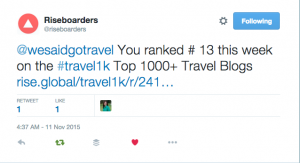 I am now ranked #13 on the top 1000+ travel sites list #travel1k from RISE. And #24 out of 100 on the online influencer list with a Klout score of 79.
Thank you for all your support of my website, social media and YouTube videos. Please like, comment and subscribe!
Thank you for all the birthday wishes last month. Lisa
The Fall Gratitude Travel Writing Contest began on September 11, 2015 and ends on Thanksgiving. Have you been a rainbow in someone else's cloud? I love how Oprah talks about this saying from Dr. Maya Angelou. Share your story of how you found your rainbow or helped someone else. More details: click here.
Thank you to everyone who participated in the Winter 2015 Inspiration contest. The winners can be seen
here
.
Finalists
for the Summer 2015 Independence
Writing Contest
 are announced and winners will be announced in December.
Ready to WRITE but need some encouragement?
Sign up for the Pink Pangea Travel Writing Retreat in Costa Rica!January 30 – February 6, 2016 at Pura Vida Retreat and Spa, Costa Rica. Pink Pangea's travel writing retreat in Costa Rica brings together a community of women to write and share their travel experiences within a supportive and inspiring environment. The travel writing retreat will be facilitated by Pink Pangea Co-Founder Jaclyn Mishal.
I now have 376,081 views! I hope to have 400,000 by the end of 2015 and 450 videos. Enjoy movies from Israel, Hamburg, Los Angeles, Bogota, St Kitts, Bermuda, Puerto Rico, Palau, Guam, Hawaii, India as well as Bali and Lombok  Indonesia,  Southern Thailand, Myanmar (Burma), and Nepal. 
Thank you again for all of your support and interest! I really appreciate it! Lisa Niver
Please comment below and enjoy these related articles