I knew flamingos were pink and I knew flamingos were big – it wasn't until viewing them in the wild at Laguna de Chaxa in Reserva Nacional "Los Flamencos"  did I realize what a large and gangly bird they are. Their necks look like a crooked drain pipe. Compared to a blue heron or a Canadian goose, when you actually look up close at a flamingo walking, it's neck is so oddly bent I wondered if the first one I saw was injured.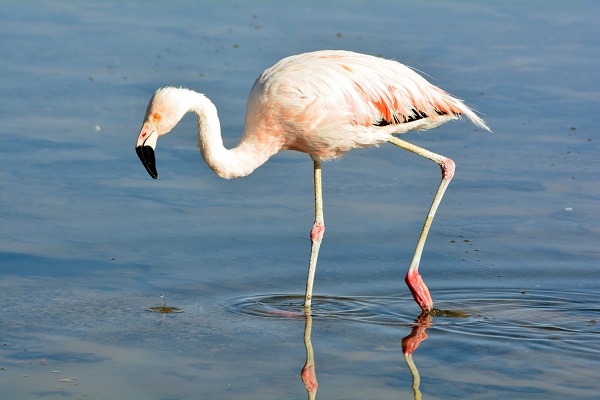 I made these up close observations approximately 62 km/ 38 mi from the town of San Pedro de Atacama in the Chilean desert. San Pedro de Atacama is the driest desert region in the world and the surrounding areas have some of the neatest ecosystems on the planet.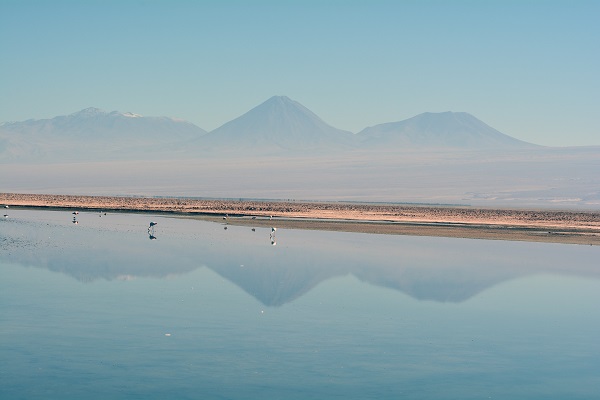 For whatever preconceived notions you may have about the world's driest desert, I found it to be awesome. If you are going to make the effort to get there, you might as well spend at least five days to check out some of the spectacular sites around the area.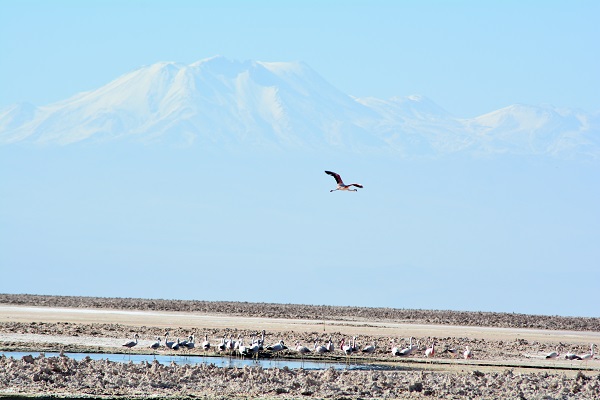 We drove to the reserve as the flamingos continued their ongoing feeding of small crustaceans and algae rich in beta carotene giving the birds their well known pink color.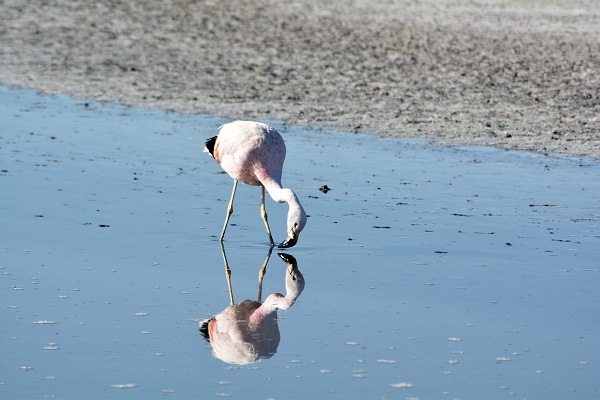 The Reserva Nacional "Los Flamencos" is home to three species of the world's  flamingos:  the Andean, Chilean and James flamingo.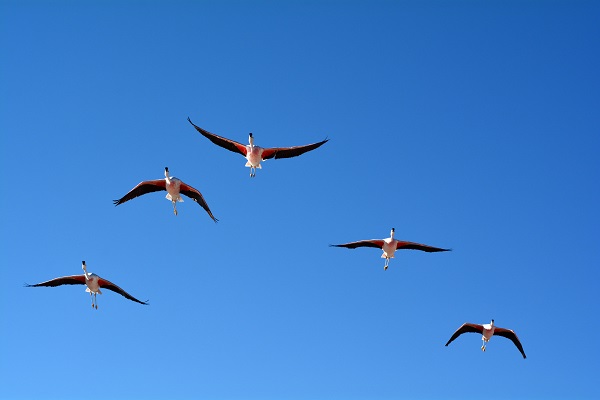 Flamingos are social birds and colonies can be in the thousands. Males and females form strong bonds for mating and usually the female will choose a suitable spot in the mud flat to build a nest.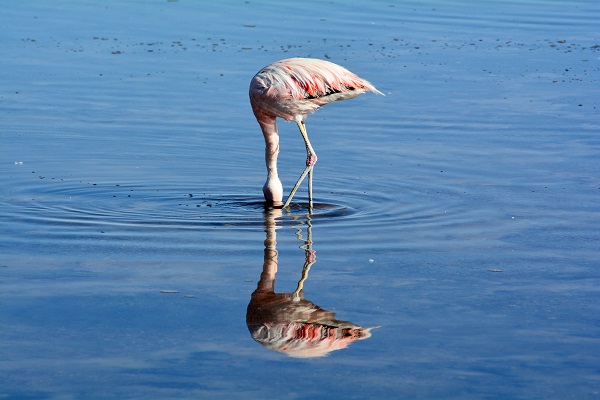 The birds will submerge their heads and stomp their feet while turning an entire 360 degrees. In doing so they stir up lots of crustaceans rich in beta carotene to eat and their beaks are specially adapted to separate mud and silt from their food. While feeding their tongue pumps up and down 5-6 times a second pushing water out their beaks.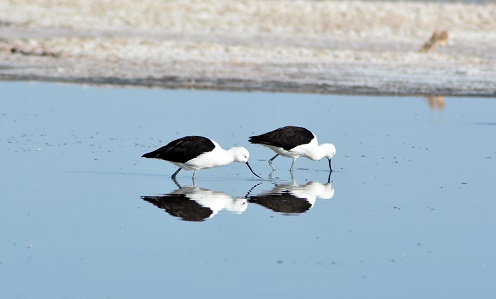 With their pronounced beaks, the Andean Avocet feed near the flamingos. They forage in shallow waters gliding their beaks back and forth across the water looking for smalls insects and crustaceans.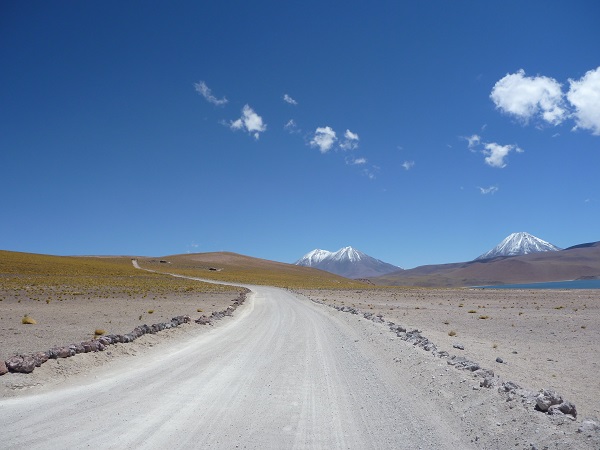 After the flamingo reserve, we drove to Lagunas Miscanti y Meniques. In all my time driving around South America, this route right here was one of my all time favorites. I don't know if color has ever moved me so much in a drive – it was just out of this world.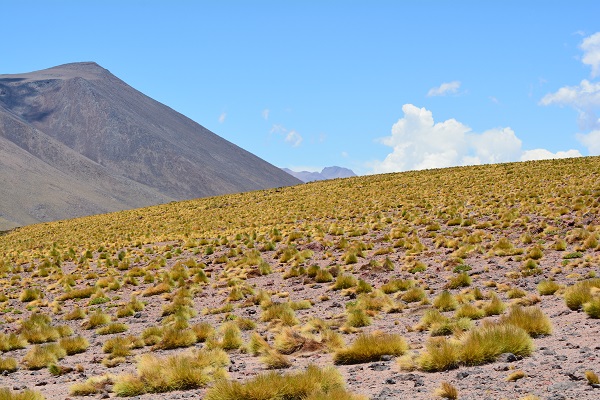 The bright yellow formed the illusion it was a solid blanket of yellow and not little individual tuffs of grass.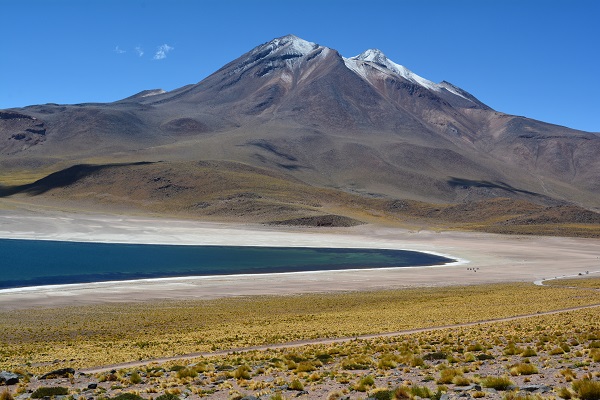 The color only got richer the higher we went in elevation. As we were ascending our driver told us he would have to turn off the air conditioning. In the past when he was driving up the rugged mountain roads the car over heated, so from then on, the AC had to go off when driving these hard roads.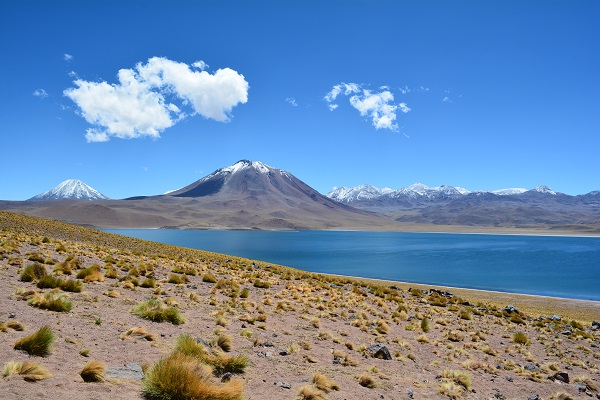 We were so lucky the day we went to get such crisp mountain views. Had it been cloudy, I would have paid the tour fee as many times as needed till I could have captured this image.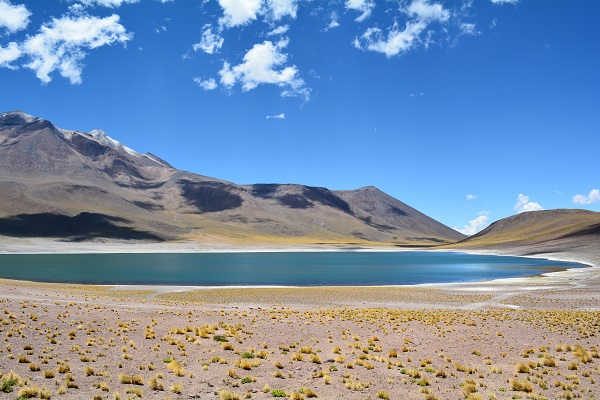 Our journey to the Lagunas Altiplanicas region was one of the highlights of my time in Chile. The richness of the color painted a lasting impression in my mind. I would hope for anyone to go and be able to have such an image created in their own head – it rivals the Mona Lisa.
*     *     *
If you go:
There are tons of tour operators in San Pedro. Have a look around and find one your feel comfortable with. We went with 'You Know Chile' and booked a package bundle. Over the course of three days we went on three different, almost full day tours of the area. This was a cheaper and easy way to get out to these remote areas.
If you can, book ahead for lodging. Lodging prices are crazy inflated and you will end up paying a lot or walking around a lot to find a solid budget option. We stayed at Hostal Jama Jama for $20,000 sole pp.
Please comment below and enjoy these related articles