While celebrating it was an honor meeting Executive Chef Akira Hirose of Maison Akira and Patricia Schultz, author of 1000 Places to See Before You Die, at the Japan National Tourism Organization Celebration at the Japan National American Museum in Los Angeles.
What were we celebrating?
Yoshinobu Ota, Executive Director of JNTO Los Angeles office, said: "To all of our guests present tonight, I extend a warm welcome. I am grateful for your cooperation to mark the historic achievement of bringing one million visitors from the United States [to Japan.] I hope you have a great time with the special Japanese dinner [by Chef Akira Hirose] and drink with great music [by Saeko Kujiraoka on Koto and Miriam Suzuki on Harp].
Patricia Schultz shared this quote by Aldous Huxley: "To travel is to discover that everyone is wrong about other places."
Schultz said about travel: "With every trip I discover something something new — fascinating that for a country [Japan] that looms so large in the Western psyche, it is a small country similar in size to California." She shared some of the special places about Japan from her book:
Tokyo
"Asia's city that never sleeps," as Schultz calls it, is where the majority of visitors first arrive to
and boasts a population of over 13 million. Throughout the sprawling streets one can find all species of restaurants, tea houses and kareoke bars mixed in with Western additions. Tokyo is home to many renowned festivals and events such as the Cherry Blossom bloom, the biennial Kanda festivals and an enormous fireworks display which attracts over one million viewers.
Kyoto
With a population of 1.5 million, Kyoto feels "almost cozy" after visiting Tokyo, says Schultz. Being Japan's cultural capital, the city has everything a visitor to the island nation could want. Step into Buddhist and Shinto holy places, ancient palaces, traditional gardens and observe authentic Geisha culture which has survived the test of time. Not to mention, with its abundance of Japanese delicacies and diverse cuisine, Kyoto is a dream come true for foodies.
Fushimi Inari
The Fushimi Inari shrine is located in Fushimi-Ku, Kyoto. After visiting Inari, visitors have the opportunity to take the 2-hour walk up the mountain to see other smaller shrines. Inari is most well-known among the merchant and manufacturer community, as it is the "patron of business."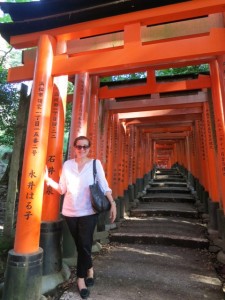 Takayama
Takayama, a somewhat isolated city, was able to develop a distinct culture over the course about 300 years from the end of the 16th century. Residents here are best known for their expertise in carpentry, and are believed to have worked on the imperial palace in Kyoto. Visitors can take a rickshaw ride through the traditional streets or a stroll through the Higashiyama temple district.
Hoshinoya
Hoshinoya, an elegant ryokan inn also located in Kyoto, whisks visitors to another place with their imaginative modifications on traditional Japanese cuisine. By using seasonal ingredients with a great respect for past traditions, chefs here have perfected the dining experience. Guests can enjoy the cuisine at their leisure surrounded by tranquil nature and serene hills.
Travel Agencies
There's so much to see in Japan that a little advice is often welcome; in her book, Schultz recommends a few agencies, depending on individual taste, which can help visitors make the most of their time on the island nation. The Art of Travel organizes unique itineraries in all parts of the country highlighting crafts and traditions not normally accessible. Walk Japan offers tours for those hungry to see the diverse culture, people and history a bit closer up than usual. Asia Transpacific, located in the US, customizes experiences for visitors depending on what they want to experience most: sumo matches, private tea parties, Geisha training etc.
Please comment below and enjoy these related articles