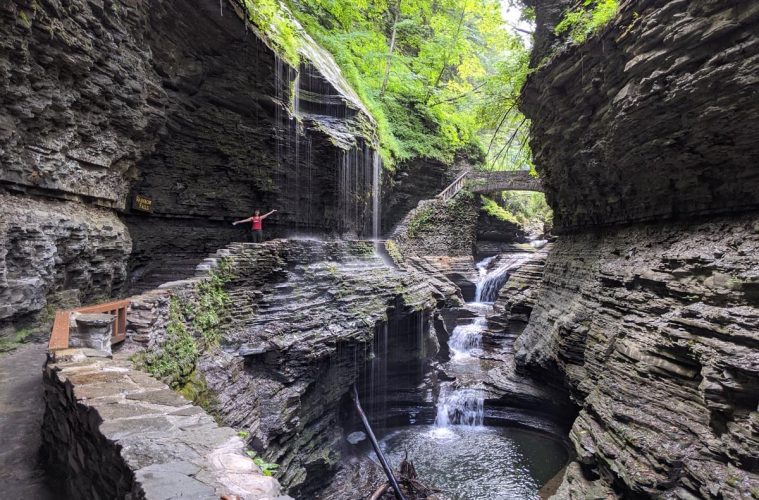 BEST THINGS TO DO IN THE FINGER LAKES: A FOUR-SEASON DESTINATION
The Finger Lakes region in upstate New York is known primarily as one of the great wine-growing regions of the United States. And with good reason: The area is home to an impressive range of innovative wine producers, including world-acclaimed Rieslings.
The harvest usually begins in mid-August and depending on the weather, can continue through the end of the calendar year. But what if your best time to visit doesn't coincide with the grape-growing season?
As I've discovered on repeat trips, the towns that cluster along these 11 digit-shaped water bodies make fantastic year-round destinations, with plenty to see and do.
Here's your guide to the best things to do in the Finger Lakes on and off-season. Check websites before venturing out, as some sites and venues operate on reduced hours during the cooler seasons.
A Guide To The Best Things To Do in The Finger Lakes
Explore museums and historic sites
From the women's rights movement to the Underground Railroad, and from the origins of the Mormon faith to a museum that showcases exceptional examples of early airplanes, the Finger Lakes is the birthplace of unexpected culture and social advocacy.
Civil rights pioneers
Cayuga County, which surrounds Cayuga Lake, is in the midst of a yearlong celebration of Harriet Tubman's bicentennial birthday. The civil rights pioneer lived in Auburn later in life, and you can pay a visit to the Harriet Tubman Home.
Excellent interpretive tours give a detailed look at her life—not only as an abolitionist but also as a businesswoman, social advocate, and military veteran—and the care facility she founded for seniors. You can also view a beautiful Ghanian carved wooden bust of the icon at the Harriet Tubman Memorial AME Zion Church, the same congregation she belonged to. Or stop at her gravesite at Fort Hill Cemetery.
Tubman was connected to various other abolitionists, including Frances and William Henry Seward. At Seward House Museum, take a deep dive into the couple's groundbreaking work. Next, 15 minutes away, visit the Howland Stone Store Museum and Opendore, properties owned by the Quaker abolitionist family Slocum, Emily, William, and Isabel Howland.
The Sewards and Howlands were also involved in the fight for equal rights, and you'll find more about them—and a range of other luminaries—at the National Women's Hall of Fame and the Women's Rights National Historical Park, the site of the first Women's Rights convention in 1848, in Seneca Falls.
Mormon roots
Meanwhile, in Palmyra, you'll find the humble Smith Family Farm. The childhood home of Joseph Smith Jr. is close to the Sacred Grove. Here, Smith said, he experienced visions that led to the founding of the Mormon Church. The forest-shrouded, 10-acre plot at the western edge of the farm is lovely, with walking paths for quiet contemplation and appreciation of nature.
Historical and cultural treasure houses
For an up-close look at the area's rich indigenous history, visit the Seneca Art & Culture Center in Victor. The facility is dedicated to Seneca and Haudenosaunee (Iroquois) contributions to art, culture, and society. And the replica Bark Longhouse, open only from May through October, offers a fascinating look at everyday life for the Seneca people.
In Hammondsport, you'll find the Glenn H. Curtiss Museum, named for the aviation pioneer. It contains an eye-opening collection of historic aviation, transportation, and local history artifacts, including vintage motorcycles and bikes, P-38 fighter planes, and automobiles.
The Erie Canal Museum is located in a historic building where canal cargo was once weighed. The museum documents 200 years of history through interactive displays, hands-on exhibits, narrative audio tracks, and artifacts.
Founded by the venerable Corning Glass Works (now Corning Incorporated), the Corning Museum of Glass is a triple threat. It houses the world's most comprehensive collection of glass, the planet's foremost library on glass, and a top glass-working school. Exhibits span 3,500 years of history, from a portrait of an Egyptian pharaoh to contemporary sculpture. and if that's not enough, the museum also presents daily demonstrations.
Enjoy the great outdoors
From scenic drives to boating and waterfall hikes, the region is all about the wide-open outdoors. Hiking trails are abundant in just about every town. The hardest part is narrowing down the selections.
Don't miss Watkins Glen State Park, home to 200-foot cliffs, a spectacular gorge, and 19 waterfalls, all within two miles of easy to moderate trails. The best views come from taking the Gorge Trail (often closed from November through early May). While you may visit the park during the off-season, you must enter via one of its other trails.
Along the "backbone," a ridge of land between Seneca and Cayuga lakes, lies the Finger Lakes National Forest, covering more than 16,000 acres of land. Here, you can traverse 30 miles of trails and picture-perfect gorges, meadows, and woodlands, including old-growth forest. Cross-country skiing and snowshoeing are both popular in the winter.
Experienced boaters can rent a vessel and putter along the Erie Canal from May through November. In warmer seasons, you can paddleboard and kayak; the latter is a singular experience when you travel through one of the canal's famed locks (paddleboards are prohibited in the locks). Rather let someone else do the driving? Take a Finger Lakes cruise.
The region is located along the Atlantic Flyway. This affords plentiful opportunities for birding, especially at preserves like the Montezuma National Wildlife Refuge and Letchworth State Park. Visit in late March or early April, and you'll witness the migration of hundreds of thousands of snow geese, who alight on Cayuga Lake during their annual trek north from warmer climates.
Sip craft beverages and more
There are so many wineries, distilleries, meaderies, and cideries in the Finger Lakes that you could fill an entire trip solely with sampling.
Since wineries and vineyards get all the love, I'll mention just a few of my top picks. Lamoreaux Landing Wine Cellars makes my all-time favorite Moscato—light and fruity, with the barest hint of black pepper. It also has don't-miss views of Seneca Lake.
Though I tend to prefer whites, roses, and light reds, the mildly cedary Cabernet Franc at Bright Leaf Vineyard could convert me. And Herman J. Wiemer, which is both architecturally beautiful and forward-thinking in its growing methods, makes some of the country's best-loved Rieslings.
If vodka, whiskey, brandy, and liqueur are more your speed, you'll find plenty of makers. Like their winery counterparts, most use locally grown grains and fruits in their products.
A great place to start is Finger Lakes Distilling, which crafts whiskey, gin, brandy, grappa, and three different fruit liqueurs. I'm a special fan of the Maplejack Liqueur, an apple brandy aged in oak barrels, with New York maple syrup added to the finished product. Four Fights Distilling, a micro-batch distillery in Corning, makes the usual suspects like whiskey and vodka. But it also specializes in uncommon selections like moonshine and barrel-rested beverages.
Cider Creek Hard Cider uses 100% New York State apples and no sugar or artificial sweeteners to create a range of accessible French-style and fruit-blended ciders. For something a little left-field, try Earle Estates Meadery, which makes unique meads (fermented-honey wines).
Can't decide? Try a map-guided tasting experience, like the Southern Finger Lakes Beverage Trail. I'm not an expert on breweries, but you'll find three dozen-ish listed on The Finger Lakes website.
Enjoy dining locally
As with the beverage scene, dining in the Finger Lakes is rich and varied. With its happy mishmash of cuisine styles, Port's Café in Geneva is the rare restaurant that's beloved by both locals and tourists. The regular menu is good, but the rotating specials are even better.
New York Kitchen in Canandaigua is a nonprofit collaboration of several organizations, including the Rochester Institute of Technology and the New York Wine and Grape Foundation. It serves upscale, farm-to-table versions of pub favorites and ocal craft beverages.
In Watkins Glen, Graft Wine + Cider Bar, owned by local chefs, is the region's only wine and cider bar, restaurant, and market. Seafood—especially the PEI mussels in a red curry cream sauce—is the standout here. Unless you're gluten-free, order the warm sourdough bread. You'll be talking about it long after your trip is over.
On the southern tip of Keuka Lake, the Park Inn in Hammondsport (built in 1861) is a boutique inn and restaurant. Here you'll find locally focused dishes and a 200-plus-selection wine list in the dining room. I usually go for a craft cocktail made with locally sourced ingredients like fruits, purees, and herbs.
Drive east, around Cayuga Lake, for a pair of worthy food stops. Opened in 2021, Salt of the Earth is warm and laid-back. Its menu encompasses perennial favorites like burgers, tacos, and freshly plucked salads, alongside hearty specials like shrimp and cauliflower "grits." Save room for dessert: You'll want to savor the generous portion of small-batch ice cream from local maker Little Cow.
At 1833 Restaurant & Bar, indulge in rich appetizers (the burrata, served with marinated tomatoes, is exceptional) and flavorful entrées like Iberico ham served with broccolini, chorizo, and potato hash.
Call it a night
The 1833Restaurant and Bar makes it an easy night by lodging where you dine. It's located in the Inns of Aurora, five separate boutique hotels in one historic district along the shores of a former Erie Canal resort town. Founded by Pleasant Rowland, the creator of the American Girl doll, the Inns of Aurora are exquisite in every detail, from their location overlooking the longest of the Finger Lakes to their décor, collections of original art, luxury spa, and curated guest experiences.
---
All photos in this article courtesy of Robin Catalano, Once More to the Shore
READ MORE FROM ROBIN–Road Trip Inspiration in the Finger Lakes and Upstate New York:
Finger Lakes Road Trip: Watkins Glen & Seneca Lake
1000 Islands Road Trip: Penn Yan to Clayton, Cape Vincent & Sackets Harbor