David Attenborough's voice sounded in my head as the Landrover bounced down into the Ngorongoro Crater and Serengeti Plains. I had watched so many documentaries and dreamed about seeing vast herds of animals on the plains all my life, but nothing could prepare me for the amazing opportunity to be there in person.
Looking over the Serengeti Plains has been a dream of mine for years. The thought of seeing herds with thousands of animals was something I longed to see. Prior to traveling to Tanzania, I had always heard about the Serengeti, but honestly I had not heard of the Ngorongoro Crater. The shock and wonder of learning about and driving down into the depths of the Ngorongoro Crater is one of the reasons I travel. The wow factor just blew me away.
The Ngorongoro Crater sits adjacent to the Serengeti and is also a UNESCO World Heritage Area. If you are making all the effort to get to Tanzania to visit the Serengeti, make sure you include Ngorongoro Crater in your itinerary as well. It is the world's largest, inactive, intact and unfilled volcanic caldera. The word 'Serengeti' is similar to the local Masssai word, 'siringet' which means 'the place where the land run on forever.' Together this area of the earth was one amazing chunk of land to visit. Here is just a brief glimpse at some of the wildlife we saw. With the exception of the sunset photo, which was taken from the Serengeti, all the other wildlife photos in this post are from Ngrongoro Crater.
In both Ngorongoro Crater and Serengeti, the vast plains swallow up even the largest of animals. In the photo above, the elephants are almost lost to the swath of green in the immense landscape. At approximately 3,202 sq mi/ 8,292 sq km the size of the Ngorongoro Crater was huge and I had to try and wrap my head around the fact I was driving around the bottom of it.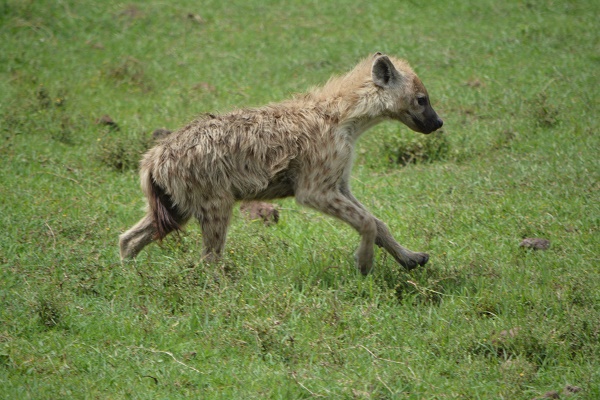 We were there around the end of January, beginning of February and were able to see this baby hyena running across the road while keeping close to his mom. The baby hyenas we saw looked so cute. Their hair is soft and showed off their spots. Adult hyenas are more prone to fighting and nipping at each other. Most adults we saw had cut up and bloodied ears that looked gnarly. Adult males who are fighting for territory could look particularly mangled.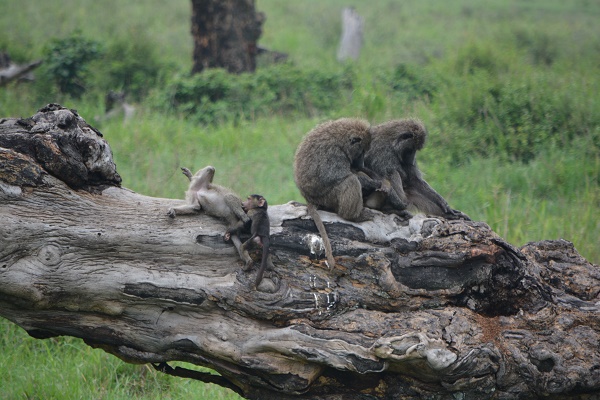 Other babies we saw playing under the watchful eyes of adults were these baboons. Baboons live by a complex hierarchy and will form large troops of dozens, if not hundreds of members. They will climb trees to sleep, but otherwise spend much of their time on the ground. As opportunistic eaters, they'll munch on fruits, grasses, seeds, crops and meat.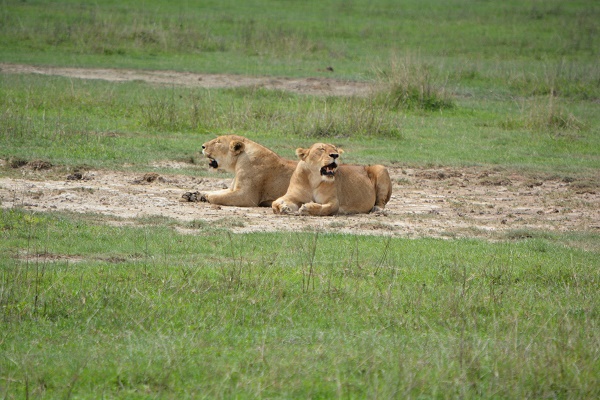 Panting to keep cool, this pair of African lionesses seems to be taking a rest before presumably looking to move to a cooler spot. Lions live in groups called prides. Females are the primary hunters for the pride and only the males will grow manes.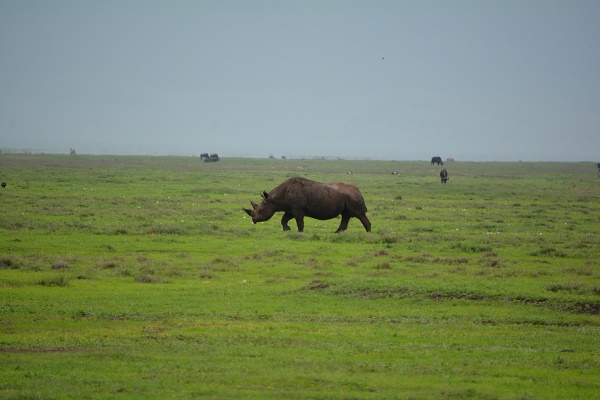 With good luck, we were able to spot this black rhinoceroses walking above. Black rhinos are not very common and are an elusive, solitary animals. Looking at the mouth of the rhino above, you can see it is pointed. If it were a white rhino, there would probably be two or more and you could see wider mouths for grazing. Rhino species are on the verge of extinction from illegal poaching.
Trotting by this jackal didn't seem too bothered by our presence. Jackals are omnivores and can be found in marshlands, savannas, bush lands and mountains. They are cunning and resourceful animals on the plains and often travel in pairs.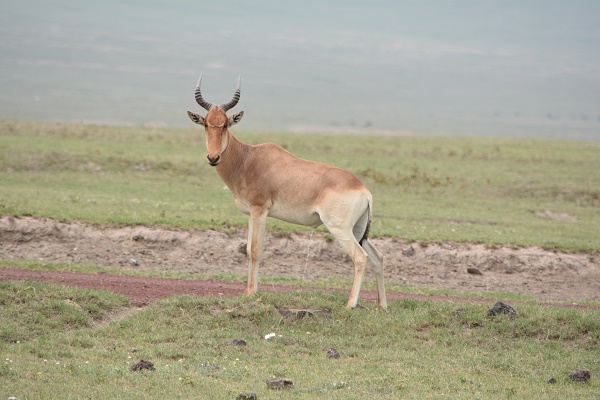 This hartebeest is an antelope that lives in the plains of Tanzania and Kenya. They spend their time feeding almost entirely on grasses. Cheetahs, jackels, lions, hyennas, hunting dogs and humans are their predators. Hartebeest may compete with cattle for grasses and there has become a need to continue the strong presence of protected land for them to graze.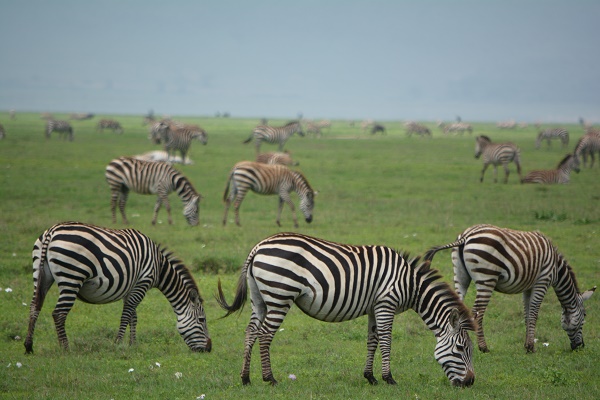 Oh what a beautiful sight to see these zebras grazing in such large herds. Each individual zebra's stripes are different. Something we talked about was the age old question, 'Why do zebra's have stripes?' It is believed that all those stripes can make it difficult for a predator to detect a single animal in a large herd. The stripes may dissuade insects from recognizing large patches of the same color hair. What I found most interesting was the stripes act like a sort of sun screen. Zebras are grazers and spend large amounts of time under the hot African sun. The black and white stripes act as a heating and cooling agent that helps the animals maintain their temperatures.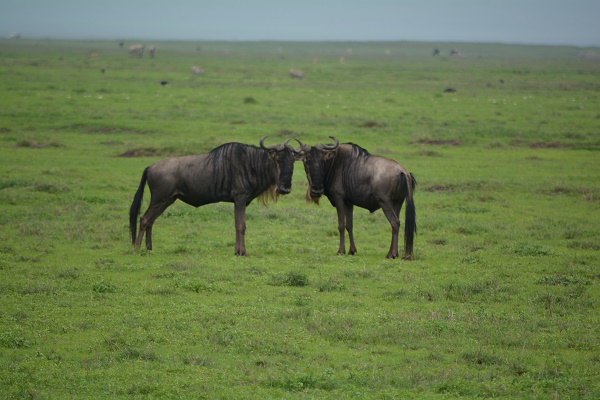 One animal that absolutely mesmerized me was the wildebeest. I could stare and stare at these guys in wonder all day. To me they were this combination of buffalo, cow, moose, antelope, horse and zebra. Their hairy markings were just fascinating to me. Both the male and females grow horns.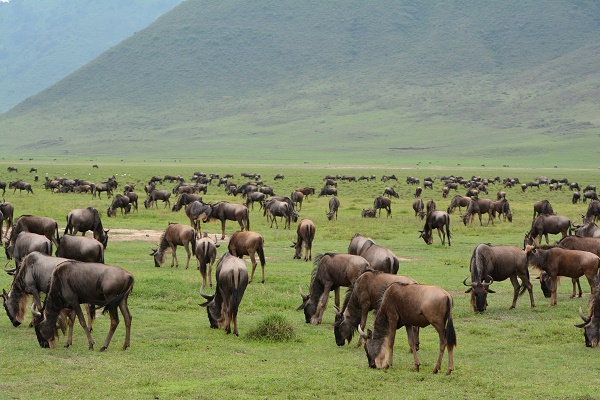 Traveling in large herds, their habitat consists of large, grassy plains. In moments like in this photo above, I would just be looking at all these hundreds of wildebeests in awe. One note of interest is boy can they buck! When we were driving along thousands of these guys in the Serengeti, the ones standing near the side of the path did not seem to appreciate the vehicles. They would go racing away and buck into the air in what seemed a matter of annoyance.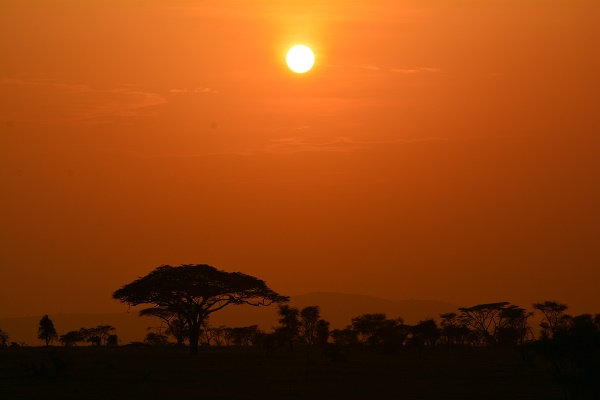 All too soon our time in Serengeti area had come to an end. Before going to Africa, I had seen sunset photos like the one I took above. I had always wondered if the sunsets really were that rich, that deep and that intense. Or was I always seeing photo shopped sunset photos of the Serengeti? I would love to tell you that the photo above is unedited and just the raw beauty of the Serengeti Plains, but don't take my word for it. I hope you can go there and experience it for yourself to find out if it's true.
***
If you go:
My time in the Ngorongoro Crater and Serengeti was part of an overland, wildlife, safari, budget camping trip I took with Intrepid Travel
. I was pleasantly surprised with Intrepid's commitment to sustainability and supporting local economies. Even tho the trip I booked was with Intrepid, we still had other local guides to take us into the crater and drive around the Serengeti. You can check out Intrepid Travel
to see if something might work for you.
Otherwise, you can do a google search and find hundreds of safari guides. If you go that route, from my observations, here are my tips:
if you are at all able, stay and camp overnight in Serengeti. The distances you will have to drive are so far and this trip is expensive. Forgo a few luxuries (like hot showers) and camp overnight. It is definitely one of the best ways to maximize your time and money.
go on the longest safari you can afford. Aim for five days (or more) if you are visiting Ngorongoro and the Serengeti.
read the details on what size of vehicle you will be in. Most safari vehicles are six person Landrovers or open aired jeeps. You will want to be in a smaller vehicle so when there is a wildlife sighting, the driver will have the ability to maneuver their way in among other vehicles.
then just read the details and ensure you understand what meals are included, exactly how your transport works and read other traveler reviews from sites like tripadvisor.
just go! Booking a trip to Tanzania for many people can be a far distance and expensive. I know before putting down my deposit, I definitely felt a bit of apprehension to be making such a big commitment. But if you are able to save and have this experience, it was one of the most memorable, unique experiences and adventures we have been fortunate enough to have. I hope you too can have a wonderful time in Tanzania.
Please comment below and enjoy these related articles