This week's WSGT Travel Influencers are New Zealand travel bloggers Linda and Craig Martin of Indie Travel Media which is known for its award-winning podcast!
Bio: Linda and Craig Martin are a Kiwi couple who have been traveling full-time for ten years, mostly in Europe, South America, and Oceania. They run the award-winning Indie Travel Podcast, publishing an audio show full of travel advice for independent travelers. They're currently in Central America. You can listen to their podcasts on iTunes and follow them on Facebook, Twitter or Instagram!

1.)Where was the first place that you traveled that made you think WOW—travel is amazing (think history book come to life or …..)
After two years of travelling in Europe, we were starting to feel like we'd reached full capacity for cathedrals and other European historical buildings. They were still amazing and wonderful, but we'd had enough. And then we went to Istanbul. Wow. Just wandering around Sultanahmet gave me a sense of joy and amazement — such a lot of history, all in one square kilometre! The sights, sounds, and smells were all so exotic and awesome.
2.)If you had unlimited resources, where would you go and what would you do?
I'd do a modified version of what I'm doing already: spend a month or two in one place, explore it, move on. The standard of accommodation might improve a bit, though!
3.)What were you afraid to do and how did you find the courage to overcome it?
It's a bit embarrassing to say, but I was scared of dogs and riding bikes. I never had a bike (or a dog) as a kid, and never mastered the skills necessary to get around on two wheels. When we started travelling, I could ride, but nervously. I realised that being able to ride a bike would make life a lot easier, so I just kept practicing until it didn't hurt so much (except for that one time I fell off while going down a hill in Adelaide. It was bloody). Spending time with dogs was another gradual adjustment. I'd always shied away from the barking dogs in my street, but as friends and Couchsurfing hosts introduced me to their pets, I started to understand the attraction. Now we frequently housesit for families with dogs, and I love them!
4.)What apps do you use regularly that make your life easier?
Skyscanner for finding cheap flights, XE for currency conversion, Maps.me and Google Maps for getting around, WhatsApp and Facebook for keeping in touch, and Productive for reminding me to stretch. Plus Two Dots, Podcasts, and OverDrive (a library app) for entertainment.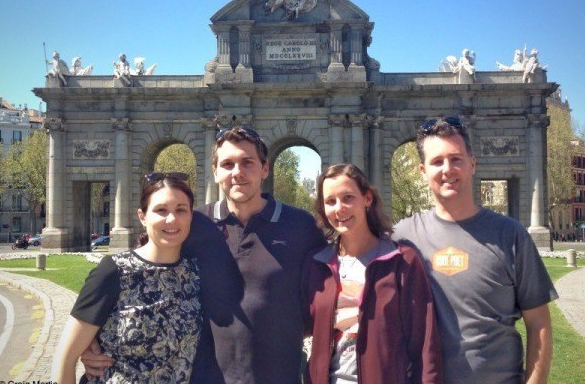 5.)What place do you wish more people have seen?
Hmmm, that's a tough one. Many of the places I love the most, I love because not many people have seen them! I do think that people should visit smaller cities and towns rather than going to London, Paris, Rome, Madrid. Some of my favourite places are smaller cities: Nuremberg, Germany; A Coruña, Spain; Salzburg, Austria. And, of course, everyone should go to New Zealand! The Bay of Islands is a great place to spend a week or so.
6.)Best advice you have been given and by whom?
Pack light. I can't remember who told me, but I wish I'd gotten the message sooner. It makes travel so much easier.
7.)When were you surprised by the kindness of strangers on a trip?
One of my favourite travel memories was from a train journey we took from Belgrade to Zagreb. We'd tried our best to keep the compartment to ourselves, but eventually we were joined by a rowdy family that included a very drunk father.
Despite our lack of a common language, the father took a liking to us, and  pulled out a 2-litre plastic Coke bottle that was filled with a liquid that certainly wasn't Coke. He took a swig, then thrust it at me. I refused several times, but there was no saying no — I had a drink, and it burned all the way down.
The wife explained that it was rakija, home-made plum brandy (not brandy like you're imagining, trust me). Apparently they were heading to Austria to attend their daughter's wedding, and it wouldn't be a wedding without several litres of rakija. She pulled open her bag to show me that it was full of plastic bottles, and those bottles were full of rakija.
After taking another swig, the father put the bottle in my handbag and patted it, as if to say it belonged there. I tried to give it back but he (loudly) made me understand that it was a present. Soon afterwards, though, he took it back out again to drink some more — so much for the present! The wife tutted, pulled the bottle out of my handbag, replaced it with a new, full bottle, then moved the handbag to my other side, out of her husband's reach.
When we arrived at our hostel, the manager was amazed that we'd been given rakija. "You must be trustworthy people," he said. I didn't see the connection, but I did understand that rakija was held in high esteem, and that it was very kind of the family (first the husband, then the wife) to share their treasure with us.
8.)What inspired you to travel for extended periods of time or live in a new country?
In New Zealand, it's normal to travel for six months or more while you're young. Many people take a year off between high school and university, or take a break from their studies to travel. Craig and I decided to pay off student loans before heading overseas, and we set off at the ages of 23 and 24 planning to be away for 3-5 years, then come home and settle down. Within six months of leaving home, though, we were hooked on travel, and knew that the chance that we'd be settling down in the next decade was quite slim.
9.)I travel because…
I can't imagine life without it. The new experiences, the new flavours, cultures, people, sights… new is addictive.
Stay up-to-date with Linda and Craig Martin through their:
Our next Travel Influencers interview will be up in a week, follow the series here.
Stay up-to-date with WSGT via our blog, Facebook, Twitter, Instagram and Youtube channel!