I went to the Galápagos off the coast of Ecuador for dinner.
As a consenting adult, I agreed to be part of a grand prize for a sweepstakes offered by LAN Airlines. The winners could choose a free trip, for two, to one of four destinations in South America (Iguaçu, Easter Island, Machu Picchu or Galápagos, Ecuador), and have dinner with me at the chosen spot. Of course, I encouraged my friends to enter, but they have dinner with me regularly, and so the prize went to David and Susan Carr of Virginia.
I spent more time in the air, jetting from Los Angeles to Lima to Quito to Guayaquil to Santa Cruz Island in the Galápagos, than I did on the ground. So, I had a lot of time to think about South American carriers, and my destination, the Galápagos, Ecuador.
The company I co-founded, Mountain Travel Sobek, started offering trips to the Galápagos in the 70s. Back then we used Braniff International Airways, with the Alexander Calder painted planes, the "flying colors" that served all the major posterns of South America. Most countries had "siloed" national carriers, airlines that served direct routes to their capitals and major cities, but not other countries without first going through their own gateway. So, Braniff was brilliant, in that you could wing directly to the country of your choice, in leather seats and with fashionable service. For US travelers, it became the Pan-South American carrier.
But with deregulation in 1978 coinciding with a huge expansion in planes and routes, Braniff faltered. And on May 11, 1982, it declared bankruptcy; the next day its jelly bean splashed planes were grounded.
LAN Airlines is an outgrowth of LAN-Chile (Línea Aérea Nacional de Chile), with whom I started working in 1978, when I set out to make the first descent of the Bio-Bio River. I was in my 20s, shepherding my young company, Sobek Expeditions, and had my heart set on an exploratory raft trip down the most spectacular run in the Andes. But I didn't have the monies to fly a crew and gear to Santiago. I approached Braniff and Pan Am for assistance, but they turned me down. My last chance was LAN. So, I flew to L.A. and met with the District Sales Manager, Diana Samper, and made my case over a long lunch. It was my last shot. Somehow, and against the odds, Diana sensed in me a passion and a vision, and she agreed to provide air tickets for my crew for this wacky idea. It was a gamble, but it worked. The expedition was a fine success, and the Bio-Bio program went on to become the most popular river run in South America, and reimagined Chile as a major adventure travel destination. And LAN benefited mightily with this new and robust vertical market.
In 2002 LAN set out to become the continental carrier for Latin America. It started LAN Perú, Lan Ecuador, and a little later, LAN Argentina and LAN Columbia. It unified under a single LAN brand, and opened up direct service from key US gateways, including LAX, Miami, NY and SFO. And last year it merged with Brazil's TAM, so it's well positioned to be the carrier of choice for the upcoming World Cup and summer Olympics.
Now, with more subdued colors, it has taken the Braniff mantel, and bettered it. The beds in business are completely flat, and the wine is fine Argentinian Malbec and Chilean Sauvignon Blanc. It is leading the way in the continent in sustainability practices, and runs among the greenest airports in the world, in Easter Island (where it is the only carrier with commercial service).
Its main hub is Lima, which makes sense, as its central location makes an ideal concourse for much of the continent, and allows a seamless transition from its international flights to its local connections to Cuzco, the gateway to Machu Picchu, the most famous attraction in all South America.
The great measure of airline is when you want the flight to end. I didn't.
The path I take routes from Lima to Quito, which boasts a new airport about 90 minutes outside the capital. LAN's partner, Gray Line Latin America, makes the smooth transfer, where I spend the night and explore the city spread across an attractive Andean valley flanked by volcanic peaks, and its 'old town,' a maze of colonial splendor that's been a UNESCO World Heritage Site since 1978.
Then, in the eager pool of morning light, I connect to Santa Cruz Island in the Galápagos, where I will share my prized dinner. I transfer to the Red Mangrove Aventura Lodge, lipped on the sea-lion-filled waters of Puerto Ayora's bay, and meet up with the winners, David and Susan Carr.
As we settle in for the buffet dinner on the deck, David shares that he spent a career as an attorney defending drug dealers, con artists, and hit men, so he was naturally suspicious when he received the email announcing he had won the LAN Sweepstakes. He thought it was a scam, so he reached to delete, when a second away he paused, and reconsidered. He had, he remembered, entered a sweepstakes for South America, and maybe this was legit. So, he held his breath, and opened the email. And now he is here supping with me, sun setting over the equatorial Pacific, a drove of marine iguanas crawling around the legs of his chair.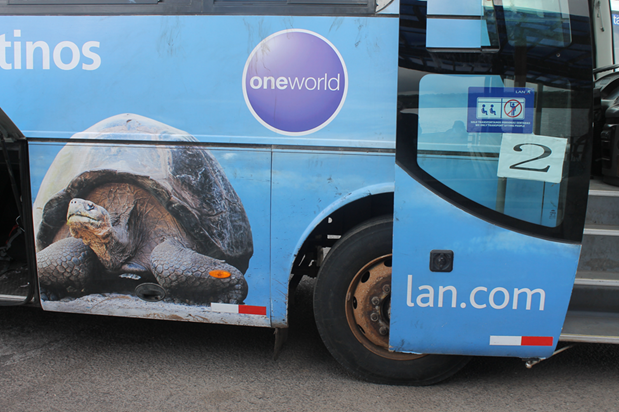 Photo by Richard Bangs
I share a Galápagos story from my history. I once sold a book idea to Macmillan called "Paths Less Travelled" in which I would send well-known authors on various Sobek trips around the world, and each would contribute an essay. I dispatched writers such as Edward Hoagland, Jay McInerny, Bobbie Ann Mason, Tom Robbins, Barry Lopez and others to the far ends of the earth, with no restrictions on what they penned. I also recruited one of my favorite writers, Daniel Boorstin, head of the Library of Congress, and author of The Discoverers. But he said he would join the project only if he could visit the Galápagos over the Christmas holiday, and only if his wife accompanied. Christmas is high-season, but I moved mountains and clients around until I finally got the two spaces. And I booked them on Braniff.
A few weeks after the trip, as the book deadline drew near, I called Daniel, but got his wife. She said Daniel would not be contributing to the book as the flight to Galápagos was shoddy with bad service, and on the boat they were paired with a loud couple with whom they didn't get along. And, the cabin roof leaked. I pleaded, cajoled, and pointed out there were no editorial restrictions on the tone or content of the essay. But for naught. The book was published without Daniel's participation, and went on to be a minor hit. Yet now I wish LAN had been around then, as history might have been written differently.
Our dinner seeps deep into the night, with lively stories of travel, careers, wrong turns, and the twists that brought us together at this wonderful inflection point of time and place.
The next day I join the Carrs for tours of the Charles Darwin Research Station (a short walk from the Red Mangrove), to a lava tunnel the size of a subway, to a giant tortoise preserve, and the beach at El Garrapatero Parque Nacional for sunset. Then it's time for the Carrs to move to the next island in the chain, Floreana (in addition to dinner with me, they won a week tour), and for me to start the journey home, once again via LAN Airways.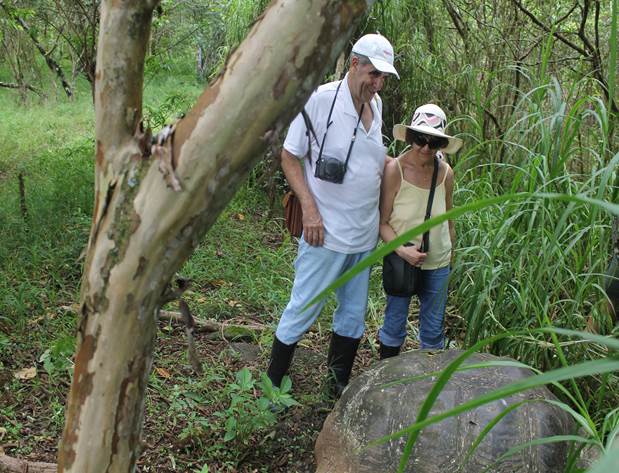 Winners David & Susan Carr in the Galapagos. Photo by Richard Bangs
It is just a happy coincidence, but a few weeks before the Carrs chose their South American dinner destination, I produced a little video citing what I thought would be the top ten adventures for 2013. Guess which place won the top slot:
Please comment below and enjoy these related articles