As originally featured on the website Hilton Mom Voyage By Lisa Grabelle
The culture! The history! The beauty! The excitement that is Lisbon makes Portugal a favorite destination of tourists worldwide. True…BUT a short train ride away from the bustling capital city transports those in-the-know travelers to a magical, fairytale world of storybook adventures — the enchanted city of Sintra! With castles, palaces, moats and transfixing beauty, a visit to Sintra is the "must do" day trip from Lisbon.
My multi-generational family of six (my husband, our two girls then ages 8 and 11, my parents in their 60s, and I) made sure to dedicate one day of our two-week trip to Portugal, Spain and Morocco to discovering the magic of medieval Sintra. It was a day that will surely remain etched in our memories forever.
TOP FOUR THINGS TO DO ON A DAY TRIP TO SINTRA, PORTUGAL
1. NATIONAL PALACE OF SINTRA
I can describe this palace in one word: Breathtaking!
This national treasure was everything we'd ever imagined a palace would be. Originally built to be the Moorish sultan's summer palace, it became a Portuguese royal summer retreat until 1910. We began our majestic visit by strolling the magnificent walkway to the Palace. Lush, dreamlike flowers and plants and fascinating art installations had us all reaching for our cameras.
Entering the dramatic Palace itself, we were dazzled by the combination of Gothic, Moorish and Manueline architectural features. The highlight for the girls was the uniquely themed rooms: The Swan Room, The Stag Room, and The Siren/Mermaid Room. We all loved discovering and comparing the intricate colorful azulejos, decorative painted and glazed tiles, that decorated the ceilings and walls of the castle.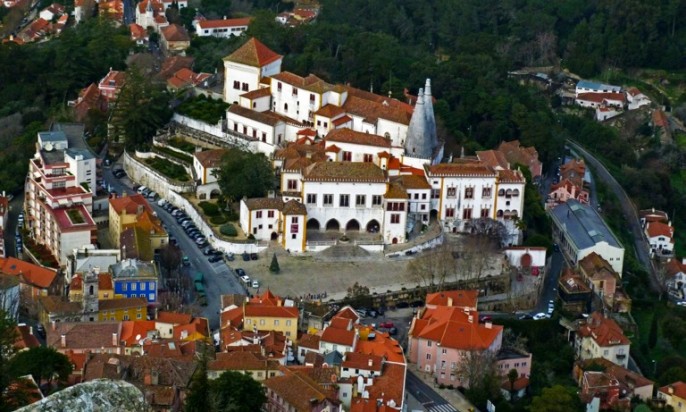 2. Sampling Sintra's Succulent Sweets
As a family of obsessed foodies, we developed an immediate craving for two of Sintra's most famous delights, queijadas de Sintra (custard-like cheesecakes) and travesseiros ("pillows" of almond pastry).
These delicious treats can be found up a hill, steps away from the National Palace, where quaint shops and restaurants will tempt you. Our favorites: Piriquita has plenty of reasonably priced lunch choices and world famous pastries, including those warm travesseiros. For the dainty and delectable queijadas, we favored the famous Sapa Bakery, which is just a few minutes walk from the train station. Stop here on your way into or out of town…or, like us, both!
3. The Castle of the Moors
Adventure time! I'm not sure if my kids or their grandfather were more excited for this stop. We were all thrilled to be scaling the walls of this medieval fort built between the 8th and 9th centuries located high among the mountains.
Our steep climb rewarded us with spectacular panoramic views of the lush countryside, stunning architecture and the vast ocean. The drama and thrill of this Moorish castle brought back my personal memories of walking the Great Wall of China, one of my favorite travel experiences of all time.
Note: Please use good judgment when deciding if your child is mature enough for the climb. The steps have no railings and potentially severe drops, so caution should be used. As we climbed up to the tower, there was a lot of tight hand-holding!
4. Pena Palace (Feather Palace)
This castle delivered us right into a fairy tale! Exploring and playing in a real castle is every child's dream. Even higher than the Castle of the Moors and nestled in Sintra's verdant hills, the iconic Palace of Pena rises from within its exquisite park, the product of King Ferdinand II's romantic vision that revitalized the palace from its original design.
To get to Pena Palace, we took an adorable tramcar to the entrance. This dreamlike castle is set amongst a picturesque forest, one that could have come right out of a Disney movie, filled with hundreds of species of trees from all over the world.
Wide-eyed and open-mouthed, we all were blown away by the sumptuously decorated rooms in late Victorian and Edwardian style (helpful placards explain each room). But the real highlight for my girls happened when they got to cross the dramatic drawbridge, climb the ramparts, and "stand guard" in the watchtowers. We saw gargoyles everywhere we looked! I could almost visualize the stories building in my children's imaginations.
We were impressed to learn that the Palace is an UNESCO world heritage site and one of the seven Portuguese wonders.
Traveling To Sintra
The very inexpensive and short train ride from Lisbon easily transports you from the city to Sintra. A cheap and easy-to-use bus system loops around from the train station to all the suggested sights. The Parques de Sintra's website explains the various options for purchasing tickets and has information about all the above visited sights.
To Make Our Sintra Day Trip Even More Special
I created a scavenger hunt challenging my girls to see how many different animal paintings or sculptures they could find. They are EVERYWHERE in Sintra. I also had them take pictures of all the dazzling glazed tiles on the insides of the castle walls. Once home, we made a collage of their favorites.
And When You Are In Lisbon…
A convenient and delightful place to stay is Doubletree by Hilton Hotel Lisbon – Fontana Park. Also, within a few minutes walk from Lisbon's Rossio station is the kid-friendly Hard Rock Cafe, a great place to rest your feet and recount your day of adventure.
Beguiling Sintra cast its magical spell on every member of our family. All three generations ranked our day in Sintra among the top of our two-week tour. Do NOT miss out! Allocate one day from your Lisbon trip to visit this town full of beauty, castles and adventure. Experience this amazing city…and be back in Lisbon in time for dinner and to take in the drama of seeing Rossio Square at night!
You may also enjoy:
Favorite Portugal Attractions in Vilamoura and Algarve
Algarve, Portugal Tour: PortiTours Jeep Safari
Best Family Resort in Portugal – Hilton Vilamoura Review
Please comment below and enjoy these related articles