Thank you to Dave's Travel Corner for publishing our story on Bountiful Bohol. We are thinking of all the people of the Philippines as they recover from the recent Typhoon.
FROM DAVE:After fifteen months traveling around Asia, George and his wife Lisa were headed back to the United States. But before they left, the earthquake in Bohol, Philippines hit. They want to reassure everyone after the earthquake in Bohol that Panglao Island with the beach resorts are currently open for tourists. Some of the heritage churches were destroyed but most tourist operations including the Loboc River Cruise are back in operation.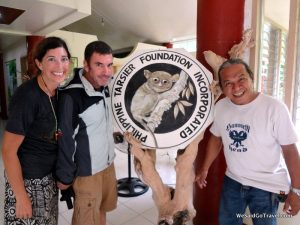 In Manila we lodged at the Remington Hotel located conveniently near Manila's international airport which helped us avoid the hectic traffic and we easily boarded our flight to Tagbilaran, the capital of Bohol Island. Ricky Tio and Rissa Gatdula-Lumontad at Cebu Holiday Tours organized our transfer and stay on the lovely island of Balicasag. Upon arrival, Manila's big city tension faded into a tranquil island vibe. We circumnavigated the entire island on foot in half an hour; during our stroll, young children enthusiastically waved and said "hello" as we passed by. One fisherman requested that I help him haul a boat to shore and taught me where to properly place myself.
Since no cars are present on Balicasag Island, the only noise we heard at Balicasag Island Dive Resort was wind rustling through the trees and waves lapping at the edge of the pretty white sand coastline. Balicasag Island Dive Resort's twenty rustic bungalows are spacious and equipped with basic yet sufficient amenities for most travelers. Other than amazing diving, the theme here is to relax, read, and rejuvenate. Both Joy who worked reception and the dive master Raul provided us plenty of information about aquatic life and the village community. At Balicasag Island Dive Resort restaurant, we sampled tasty fish and chicken adobo entrees as well as the signature Philippine dessert, Halo Halo.
More about our journeys? Check out our memoir, Traveling in Sin. Now available at Amazon.com