It only takes one person to make a difference!
BRAWNY BELIEVES IN TACKLING LIFE'S CHALLENGES HEAD ON, ROLLING UP OUR SLEEVES, AND GETTING DOWN TO WORK.
AFTER ALL, STRENGTH LIES NOT IN WHAT WE SAY, BUT IN WHAT WE DO.
SO TO ALL THE GIANTS WE CHAMPION AND THOSE WE HOPE TO INSPIRE, WE SAY: STAY GIANT
"Brawny has always stood for strength and resilience, and in the past months, we've seen more stories than ever of people rising to the occasion and taking action to help others. These people are our giants, and we're proud to recognize and support them through The Brawny® Giants Initiative. If you know someone making a difference who we should support, share their story with us" at brawny.com/giants-take-action. #GiantsTakeAction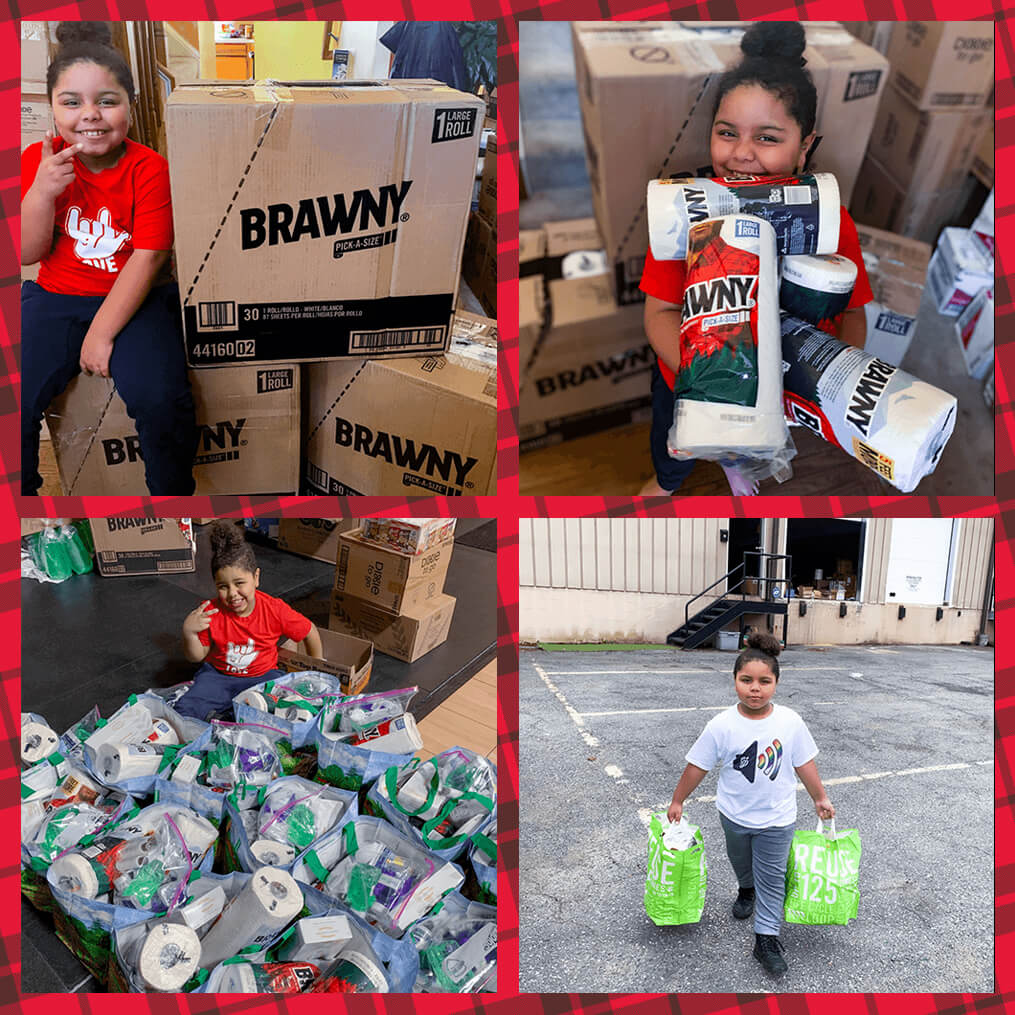 Cavanaugh Bell
Founder of Cool & Dope

7-year-old Cavanaugh Bell spent all $600 of his savings to create coronavirus care packages for seniors in his community, proving that you don't have to be big to be a giant. We noticed he didn't have any paper towels, so we sent Cavanaugh plenty of rolls to stock his community pantry.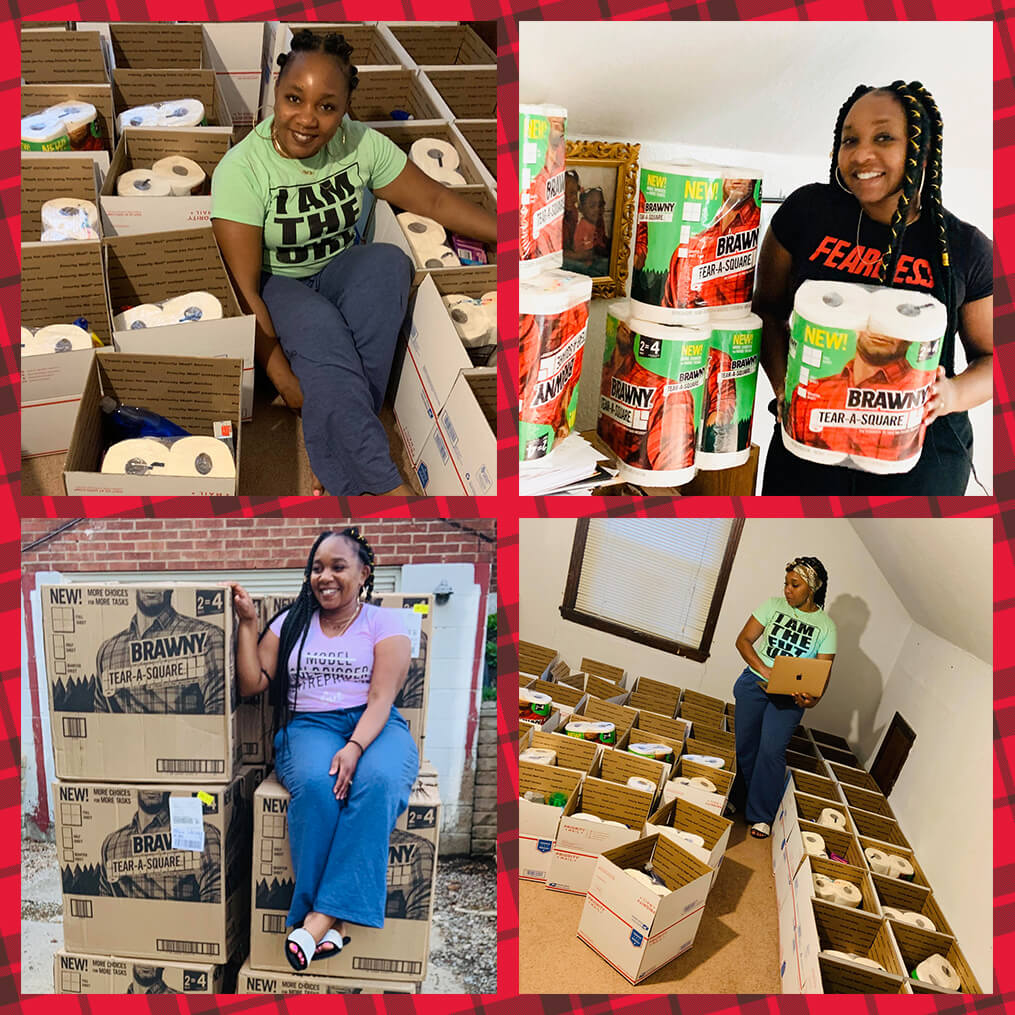 Ray Nell Jones
Founder of The Allignment Chapter
Knowing first hand the immense challenges single moms face (especially in times of crisis), Ray Nell Jones is taking action to deliver essential goods to moms who need them during this difficult time. We're proud to support giants like Ray Nell, so we sent her the paper towels she needed for her next round.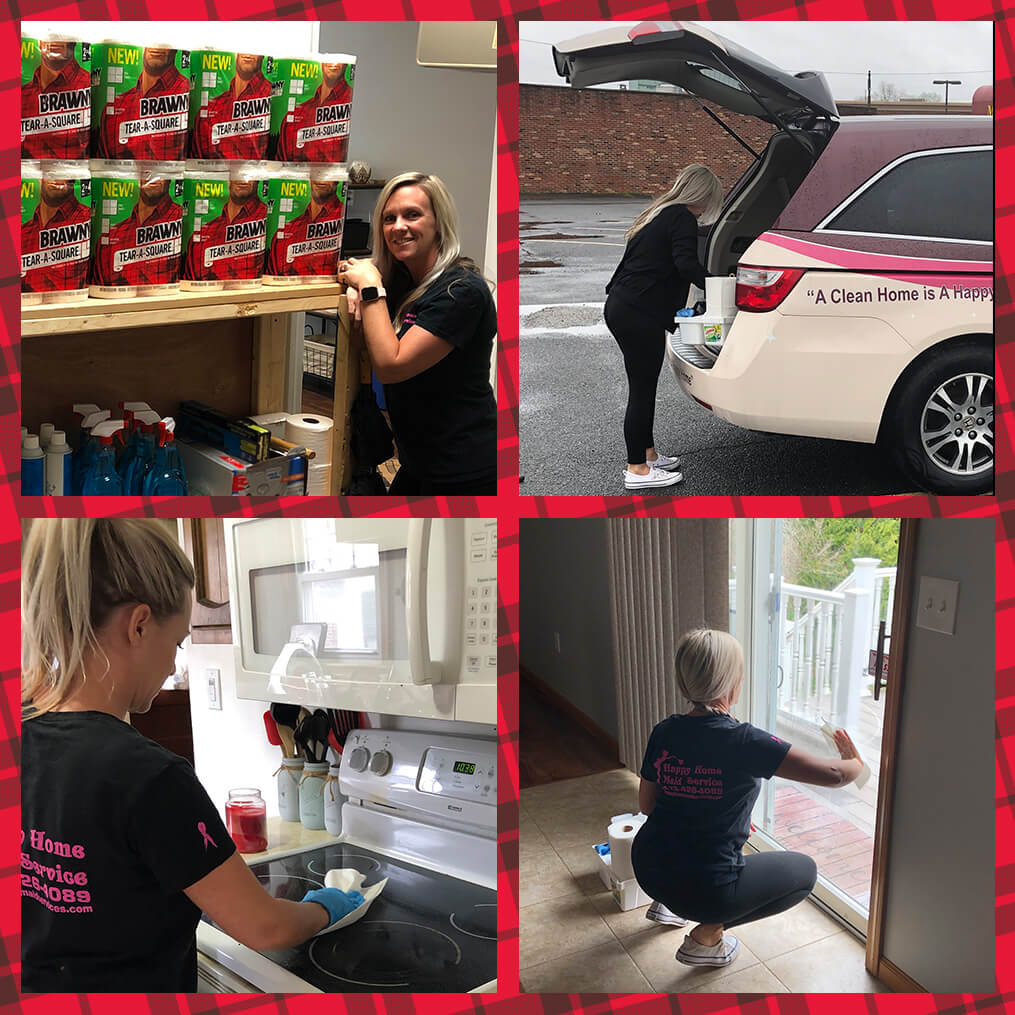 Laura Hutchins
Owner of Happy Home Maid Service
While heroes on the frontline are taking care of us, giants like Laura Hutchins are taking care of them, by cleaning their houses free of charge. And now, we're taking action by supplying her with paper towels and sponsoring more cleanups so she can continue to make a difference.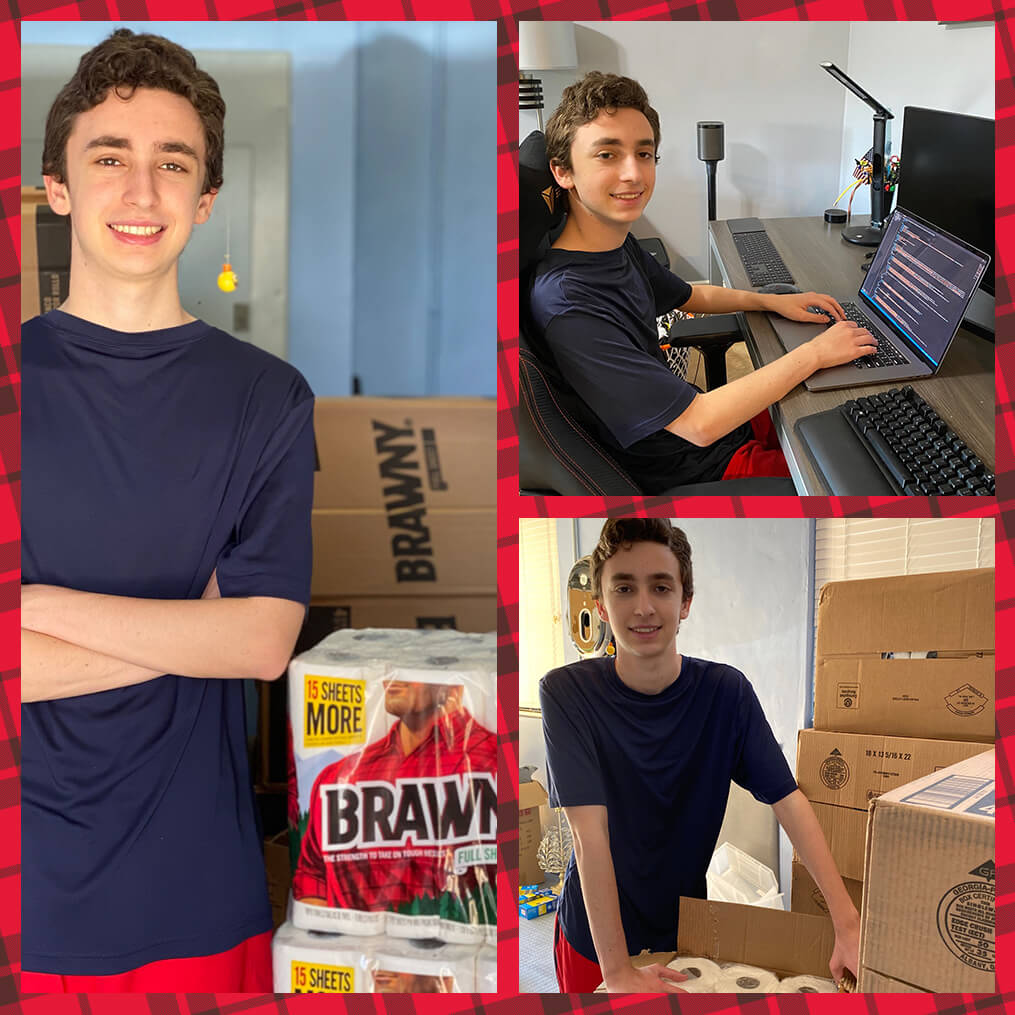 Blake Rand
Creator of CoronaFinds.com
To help people struggling to find essential supplies, 17-year-old Blake Rand used his programming skills to create Coronafinds.com, a website he still updates daily. And now we're helping this giant by sending him paper towels to share with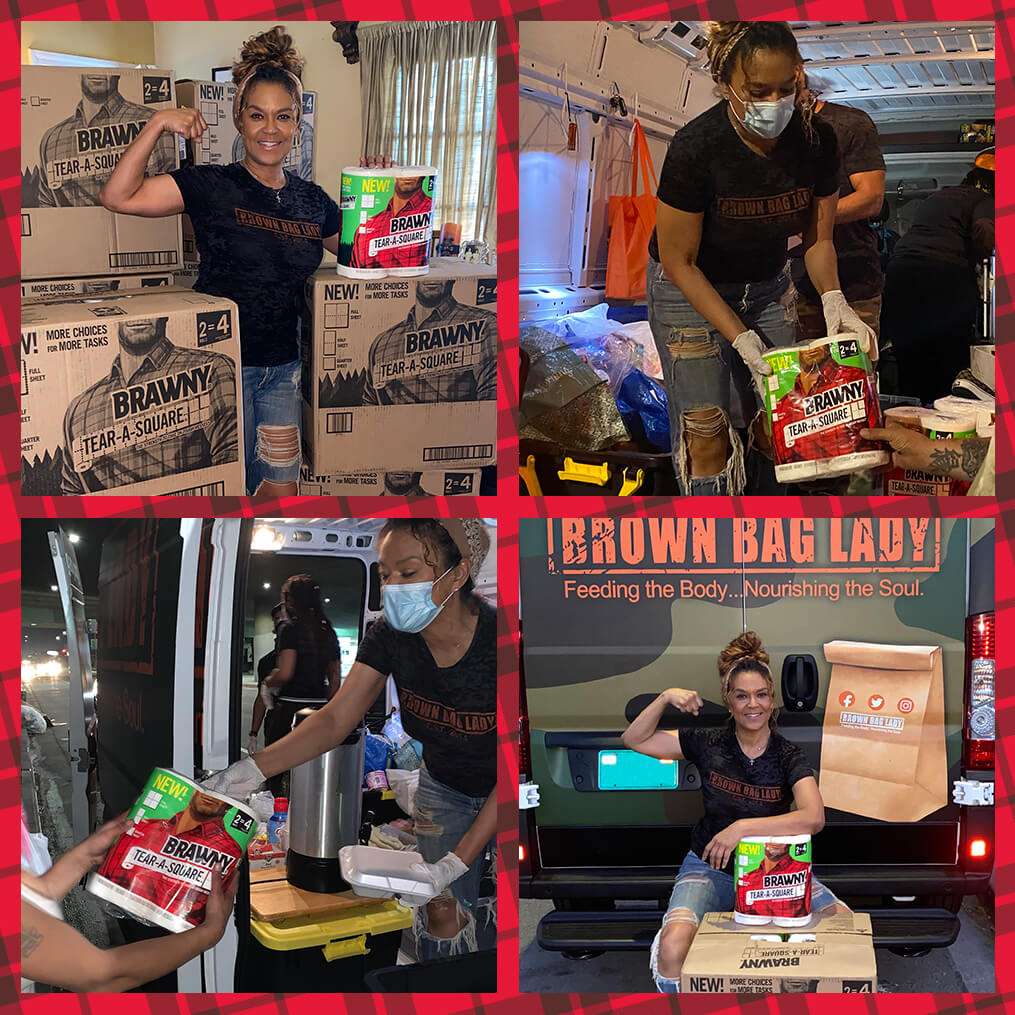 Jacqueline Norvell
Founder of Brown Bag Lady
Giant Jacqueline Norvell of Brown Bag Lady spends her nights and weekends feeding and distributing supplies to people living on the streets in L.A. During the pandemic alone, she's already fed over 3,000 people, and now we're proud to help her keep doing her incredible work.
In a world full of talk, we believe that strength lies in the action we take, which is why the Brawny® brand celebrates and supports individuals who take matters into their own hands and tackle challenges head-on. These people are our giants.
During the COVID-19 crisis we've seen more people than ever rise to the occasion and embody our brand purpose by inspiring others to overcome life's challenges with strength and resilience. Inspired by these stories, we launched The Brawny® Giants Initiative to recognize and support individuals across the country who are going out of their way to help others.
If you know someone who's making a difference in their community during the COVID-19 crisis, share their story with us, and we may be able to support their cause.
*Please Note:
Giants recommendations will be accepted between May 18th, 2020 and July 13th, 2020 for legal residents in the 50 United States and the District of Columbia. Recipients selected at sole discretion of the Brawny® brand team.
The potential giant must be a specific individual or a 501(c)(3) nonprofit led by an individual.
Their activity should not be funded through government or state funding.
Their activity should not be something they get paid to do, but rather something they fund themselves or with the help of donation from others.
Potential giants will be subject to and must consent to a background check.
I also loved their #StrengthHasNoGender project
Please comment below and enjoy these related articles