April News: Hello from New York City and the United Nations! I was invited by UNOCHA to a meeting about the World Humanitarian Summit. I felt honored to be included among the twenty people selected as "Champions for Humanity." Please see my article in the Jewish Journal and the website, Impossible Choices, to learn more.
For Passover, I had an article in print in the Jewish Journal. Here is a link to the online version of my article, "A Journey to Freedom over Three Passovers." I hope that during this season you have gone forth from mitzrayim (narrow places) to openness and ever-expanding possibility.
Thank you to Insight Vacations Luxury Gold for my truly remarkable and incredible trip to Italy in April. There are many photos on my social media accounts:  Instagram, Facebook, Twitter, Pinterest, YouTube. Videos from Italy will be available soon! I highly recommend a Luxury Gold journey. The exclusive VIP experiences were amazing, our traveling concierge was fantastic and the motor coach was luxurious. Let me know where you pick to travel, I might join you! I am ready for another voyage with Insight Vacations.
I now have over 500 travel videos on my YouTube Channel with over 435,000 views. I hope you will consider subscribing. I have 985 subscribers when I get to 1000 I can apply to join a new video project.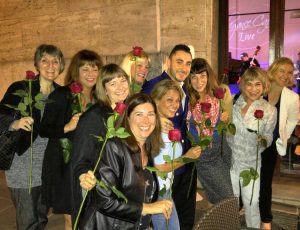 The We Said Go Travel Team and I have just finished publishing the Gratitude Travel Writing Contest entries. The winners will be announced in June. The brand new We Said Go Travel Writing Award will open May 4, 2016 with $1000 in cash prizes. There is now a fee to enter the award and a form to apply for a need-based scholarship.
Thank you for all your support of my website, social media and YouTube videos. Please like, comment and subscribe! As my fortune cookie said: "One that would have the fruit must climb the tree." I wish you a wonderful month ahead. The other cookie said "Be not simply good, be good for something." Take action to make your dreams come true!
Thank you! Lisa
MORE ABOUT MY VIDEOS: Thank you for watching my WSGT YouTube channel! Enjoy movies from Viking River Cruises, Israel, Hamburg, Los Angeles, Bogota, St Kitts, Bermuda, Puerto Rico, Palau, Guam, Hawaii, India as well as Bali and Lombok  Indonesia,  Southern Thailand, Myanmar (Burma), and Nepal.  To find all 500+ Videos: click here for the WSGT YouTube Channel. I am over 1700 followers on Pinterest, and up to 985+ subscribers on YouTube!
Please comment below and enjoy these related articles