Lisa and the gang left South Dakota with a bang… and a helicopter ride! The Badlands of South Dakota are a designated national park and close to 65,000 acres act as a wilderness area for the re-introduction of endangered species. After hopping onto a tour with Black Hills Aerial Adventures, Lisa was on her way to a bird's eye view of 243,000 acres of buttes, pinnacles and spires, not to mention the world's richest Oligocene fossil bed!
If a helico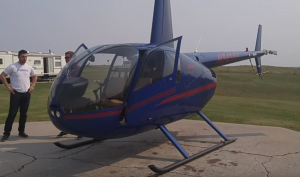 pter ride doesn't appeal, there is plenty of hiking to take advantage of in the Badlands. You can see more than 7,500 stars on a clear night or even become a volunteer in the Night Sky Program as a way to experience the universe on a deeper level!
Video: Badlands Helicopter Adventure, South Dakota
Nobody should leave South Dakota without taking a drive through Custer State park first! Lisa and the Zipkick bloggers saw hundreds of wild buffalo, burros and prairie dogs on their 18 mile journey through the Wildlife loop. Custer State Park is is South Dakota's largest state park and aside from wild buffalo, is home to elk, mountain goats, white-tailed deer and mountain lions!
VIDEO: Custer State Park, South Dakota 
After a long drive, the team arrived at Minneapolis with an appetite. There are so many dining options to choose from in the city, but for something simple and satisfying, Matt's "Jucy Lucy" burgers hit the spot. Once lunch is taken care of why not pass time on the tranquil Mississippi river? The Zipkickers ventured out in kayak through Above the Falls Sports for a fun-filled afternoon.
When hunger strikes once more, what else is there to try in Minneapolis? Japanese teppanyaki! More than just dinner, teppanyaki is a show; watch your chef do a fanciful knife and blade dance while preparing gourmet plates right in front of your eyes! For a better understanding on the art of teppanyaki, check out Lisa's article via She Knows.
VIDEO: Magic Minnesota Adventures in August 2015
Keeping with the theme of a healthy appetite, Lisa and the team went to the Holy Grail of food: the Minnesota State Fair! Among the tastes and treasures were fried alligator on a stick, deep-fried cheese curds and wild rice gourmet cheeseburgers! For the full list of "must-haves," check out WSGT's Six best food hacks article. The annual state fair spans 12 days and sees more than 12 million people come through its doors. Aside from fresh and fried foods, there are concerts, shopping and educational activities to take advantage of.
VIDEO: Best Day at Minnesota State Fair 2015: Eat these six best food hacks!
For more adventures, travel tips and stories, stay up-to-date with WSGT through our blog and youtube channel! More about South Dakota: Click here!